Nang Nak
(1999)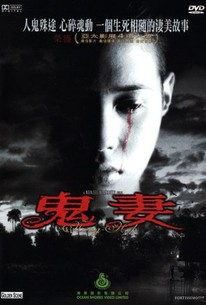 AUDIENCE SCORE
Critic Consensus: No consensus yet.
Movie Info
Nonzee Nimibutr, whose previous work includes Dang Bireley and the Young Gangsters (1997) directs this supernatural drama that proved to be phenomenally popular in its native Thailand. Set in the 1860s, young villager Mak leaves his wife and child to fight in an unnamed war. When he returns, he finds the village is possessed by ghosts. Soon, local monks hire a hirsute Buddhist ghostbuster to thwart the supernatural scourge. Nang Nak was screened at the 1999 Vancouver Film Festival.
Rating:
NR
Genre:
, ,
Directed By:
Written By:
In Theaters:
On DVD:
Runtime:
Studio:
Buddy Films and Video
Critic Reviews for Nang Nak
There are no critic reviews yet for Nang Nak. Keep checking Rotten Tomatoes for updates!
Audience Reviews for Nang Nak
Based on a Thai legend, Nang Nak weaves a tale of a tragic romance between the ghost of a faithful wife, Nak (Intira Jaroenpura), who dies during childbirth and her husband Mak (Winai Kraibutr), who is conscripted into military service and, upon returning, is still unaware of Nak's death some months prior. He goes to his home and reunites joyously with Nak and their newborn child, unsuspecting that everything is an elaborate illusion concocted by the ghost of Nak. The villagers, however, are well aware that Mak is now living with the ghost and make an effort to inform him before things get out of hand. Nang Nak is to 21st century Thai horror as Ring (1998) is to J-horror; indeed, to anyone looking to learn about Thai cinema, Nang Nak is unavoidable because it was pivotal in sparking the Thai New Wave. I've seen a lot of Thai films from the past decade and many of those-if not most-were influenced by Nang Nak. As Spirited Away (2001) is famed for outselling Titanic (1997) at the Japanese box office, so, too, is Nang Nak famous for outselling Titanic at the Thai box office, which is wonderful because it's always good to see a domestic product trample the big Hollywood blockbuster, especially a trashy one like Titanic. All this piqued my curiosity about Nang Nak and I finally got around to watching it, but, while I can see it's a cut above most of the Thai films I've been seeing of late (excluding Dorm [2006]), I found myself disappointed. I suspect that, because I am not Thai and was previously unfamiliar with the legend upon which the film is based, I had less of a cultural appreciation for this film. It's certainly not scary, but it's not supposed to be either. Don't expect a horror film. There are a couple of gross images, but nothing to churn the contents of your stomach. As I previously indicated, this is a romantic tragedy and it just happens to involve a ghost. In this respect, it's like Dorm, which is frequently misconstrued as being a horror film simply because there's a ghost in it. I appreciated the authentic depiction of 1860s rural Thailand, but where I struggled to enjoy this film was the over-the-top performances by the two leads. Now, you have to understand that Thai people and Southeast Asian people in general adore soap operas and there's a definite soap opera feel to these performances, which may not be a negative thing from a Thai perspective, but it is from mine. To make matters worse, a quarter of the script seems to consist of the two aforementioned leads whimpering each other's names back and forth when it would have been more effective to liberate most of these scenes from the chains of dialogue à la Akira Kurosawa and Kim Ki-duk and leave it to the actor's and actress's abilities to communicate through body language. The plot was mostly cliché-free, but it wasn't greatly interesting either. Normally, I'd rate this film slightly higher, but, given its reputation, I feel I need to be harsher in the same way I was brutally harsh to Spring in a Small Town (1948). Big reputations lead to big disappointments.
Matthew Gist
One of the greatest ghost stories I've ever seen. The imagery in this is amazing, the love story is quite touching and the ghost story is very scary. Truly a great film.
Christopher Brown
Super Reviewer
Based on an actual Thai legend. An interesting look into the culture as well as a good ghost story.
Anthony Valletta
Super Reviewer
Nang Nak Quotes
There are no approved quotes yet for this movie.