On the Double
(1961)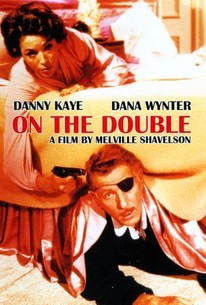 AUDIENCE SCORE
Critic Consensus: No consensus yet.
Movie Info
This one-dimensional comedy with Nazi Germany as a source of humor, whether indirect or not, may step past the boundary of funny topics for some viewers. But Danny Kaye has some terrific moments as Ernie Williams, an American G.I. chosen to double for a British general as the day of the Allied invasion of Normandy approaches. As it turns out, the general is killed, and his chauffeur (Diana Dors) is a Nazi spy who then gets Ernie kidnapped and sent to Germany. That is when the chase and all the disguises begin -- Ernie as Marlene Dietrich, as a Nazi pilot, and even as Hitler, using all the tricks in the book to escape capture.
Rating:
NR
Genre:
, , ,
Directed By:
Written By:
In Theaters:
On DVD:
Runtime:
Studio:
Paramount Pictures
Critic Reviews for On the Double
There are no critic reviews yet for On the Double. Keep checking Rotten Tomatoes for updates!
Audience Reviews for On the Double
That Poor Guy Played Hitler Ten Times! Danny Kaye seems to have been a big fan of Mistaken Identity Comedy. He did three or four movies where his IMDb credit has more than one name listed--and it doesn't for this one, despite the fact that he's playing two characters again. Heck, even his appearance on [i]The Muppet Show[/i] involved Statler and Waldorf's thinking that the night's guest was going to be Manny Kaye, the Singing Civil Servant. There are exceptions to the trend, but by and large, if Danny Kaye is the main character, he will at some point be in disguise as an authority figure of some sort. I don't know why that is, but if he was enjoying himself, I suppose that's all that really mattered. Heaven knows I've enjoyed several movies where Danny Kaye is in disguise, myself. It is also true that, other than the vaguest outline, the movies themselves were often very different, with settings as varied as Generic Fantasy Kingdom and Generic Russian Village. Or, as here, London during World War II. Private First Class Ernie Williams turns out to do a really excellent impersonation of General Sir Lawrence MacKenzie-Smith. This is convenient for all concerned, as Colonel Somerset (Wilfrid Hyde-White) has a dashed cunning plan. It seems the German High Command quite has it in for the general, what, and they're interested in a double. They tell him that he will just be distracting the Germans, but the real goal is to prevent the Germans from assassinating the real general by keeping them from knowing where he is. In order for it to succeed, Ernie has to fool everyone--there are German spies in the British command. His batman, Sergeant Colin Twickenham (Terence de Marney), knows, but his driver, Sergeant Bridget Stanhope (Diana Dors), does not. She turns out to be his mistress, which is even more complicated, because his wife, Lady Margaret (Dana Wynter), comes home from Canada early. Yes, Ernie is a ridiculous hypochondriac, and as Colonel Rock Houston (Gregory Walcott) said, during his time in the Army, Ernie didn't volunteer for anything--even volleyball. Ernie doesn't want to be doing what he's doing. He'd almost rather actually be in combat--at least then, there are a lot of targets around. As the general, he's the only target. However, once he gets persuaded to do the job, he does whatever it takes. There's a completely ridiculous sequence set in Germany, and while Ernie is obviously panicking the whole time, and while his first instinct is to tell them everything, he doesn't know anything important anyway. He holds out against torture for three days--though, again, since he doesn't know anything, there's nothing he can tell them anyway. Yeah, he's a coward the whole way through. However, he does what he can to overcome his cowardice. Being brave is not being unafraid. It's being afraid and doing what needs to be done anyway, and by that definition, Ernie ends the movie brave. Possibly the most likeable character in the movie, however, is Lady Margaret. She knows that she ought to keep her marriage going for morale purposes, but she's just reached the point where she can't take it anymore. She was Doing Her Bit enough so that she was in Canada, selling War Bonds. Her husband hasn't been hiding his mistresses from her; they always get into fights at parties. Their marriage is a sham, and she's finally reached the point where she isn't interested in it anymore. She is the only person to realize that Ernie is not who he is pretending to be, in no small part because no one has bothered telling Ernie that the marriage [i]is[/i] a sham. Then when she figures it out, she's the only person genuinely interested in Ernie as Ernie, even before she--of course--falls in love with him. She wants him to be fully aware of what is coming to him, which no one else does. She's the only one who thinks he can handle it, for one thing. Oh, and of course the movie is funny. It's Danny Kaye. He gets a musical number or two, also of course. A love song, even, not just the comedic one. Mostly, though, he's playing a coward and hypochondriac forced to pose as a bluff, brusque British general. He does a bit of a turn as the general as well, but what we are really seeing is that Ernie just wasn't briefed well enough. Then again, I'm not sure it's possible to be briefed well enough for what they're asking Ernie for. Fooling the German High Command would be one thing if he just had to get through some public appearances, but with the added complication of spies in the British military? No, he's simply not prepared and cannot be prepared. There's nothing to be done to prepare you to fool everyone--though teaching him the regimental song would not have been a bad idea, or telling him that his mother is dead. There are some things that are so obvious that I guess it slips their mind that not everyone knows them, I guess, which isn't the best thinking out there.
Edith Nelson
Danny Kaye does a good job. He has frequently done double roles like this. Nicely produced, good story, but it does get a bit tiring after awhile. Margaret Rutherford has a great bit in a supporting role. She enhances every movie she is in. It certainly has it?s funny moment, very entertaining. Good pacing is a big plus.
James Higgins
On the Double Quotes
There are no approved quotes yet for this movie.