The Petrified Forest
(1936)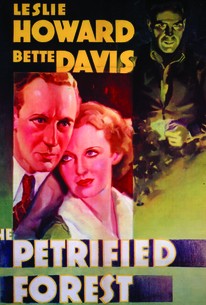 The Petrified Forest Photos
Movie Info
Burned-out British intellectual Alan Squier (Leslie Howard) wanders into the desert service station/restaurant owned by Jason Maple (Porter Hall). Alan finds himself an object of fascination for Jason's starry-eyed daughter, Gabrielle Bette Davis, who dreams of moving to France and establishing herself. Boze Hertzlinger (Dick Foran), Gabrielle's gas-jockey boyfriend, grows jealous of Alan, but the penniless, dissipated Briton has no intention of settling down; in fact, as soon as he mooches a ride from wealthy tourists Mr. and Mrs. Chisholm (Paul Harvey and Genevieve Tobin), he's on his way out of Gabrielle's life...or so everyone thinks. Later that same day, Alan, Gabrielle, Jason, Boze, and Mr. and Mrs. Chisholm are huddled together in the selfsame restaurant, held at gunpoint by Dillinger-like desperado Duke Mantee (Humphrey Bogart) and his gang. Alan seems indifferent to the danger, toasting Duke as "the last great apostle of rugged individualism." Sensing an opportunity to give his life meaning, Alan takes Duke aside, begging the outlaw to kill him so that Gabrielle can travel to Paris on the money provided by Alan's insurance policy. When the police converge on the restaurant, Duke announces that he intends to use Mr. and Mrs. Chisholm as a shield in order to make his escape. Alan tries to stop him, receiving a bullet in the belly for his troubles. "So long, pal," growls Duke fatalistically, moments before his own death, "I'll be seein' ya soon." Alan dies in Gabrielle's arms, secure in the knowledge that, alone among the film's principals, she will be able to escape the trap of her existence. When originally presented on Broadway, Robert E. Sherwood's The Petrified Forest starred Leslie Howard and Humphrey Bogart. Warner Bros. intended to cast Edward G. Robinson in Duke's role, only to be thwarted by Howard, who told the studio that he himself would drop out of the project if Bogart wasn't retained. The film proved to be just the break that Bogart needed; years later, he expressed his undying gratitude to Howard by naming his daughter Leslie Bogart. One year after The Petrified Forest, Humphrey Bogart and Leslie Howard co-starred in The Stand-In. ~ Hal Erickson, Rovi
Critic Reviews for The Petrified Forest
Audience Reviews for The Petrified Forest
½
An interesting love story wrapped up in a crime thriller story. A bit long and talky, though, but pretty good.
½
a very diologue driven gangster picture that delivers. the acting was very good and the story well told despite the fact that it was incredibly simple. the entire film essentially takes place on a single set and no "event" really takes place throughout the film, but the diologue was poetic. i just had a really good time watching people talk for 80 minutes, and the fate of these well planned characters really mattered to me. great movie.
Leslie Howard and Betty Davis have zero chemistry in this film. However the unexpected story and Bogart make this film a real pleasure.
Ken Stachnik
Super Reviewer
The Petrified Forest Quotes
| | |
| --- | --- |
| Mrs. Chisholm: | Oh you needn't look so martyred, I've never complained - I've given you everything you've wanted. At the price of my self-respect, my individuality and everything else. |
| | |
| --- | --- |
| Alan Squier: | Oh Lord; now it's going to be all over. |
| Alan Squier: | Oh Lord, now it's going to be all over. |
| | |
| --- | --- |
| Gabrielle Maple: | Paris! That must be the most marvelous place in the world for love, isn't it Alan? |
| Alan Squier: | All places are marvelous, Gabrielle. |
| Gabrielle Maple: | Even here? |
| Alan Squier: | Especially here, my darling. As long as I live I'll be grateful to the Duke. |