The Postman
(1997)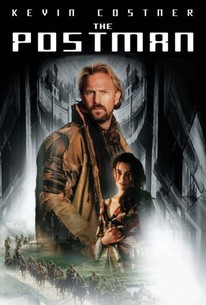 Movie Info
Kevin Costner directed and stars in this adaptation of David Brin's science fiction novel The Postman (1985), first published in 1982 issues of Isaac Asimov's Science Fiction Magazine. Costner's return to directing after his Oscar-winning Dances With Wolves(1990) is a futuristic epic depicting the aftermath of a destructive war. Some 16 years from the present day, America has been turned into a wasteland of separated communities minus a national government. A vagabond (Costner) who travels through these little villages performing Shakespeare is captured by marauders known as the Holnists, and thrown into a totalitarian labor camp run by a Hitler-like dictator, General Bethlehem (Will Patton). Making an escape, the drifter, known to some as "Shakespeare," stumbles across an abandoned U.S. Postal Service jeep and dons the dead postal-worker's uniform. With a scheme simply to get food, he sets out to deliver 15-year-old mail, proclaiming himself The Postman, and discovers that residents accept his lies about a restored United States government because they desperately need something to believe in. This hope leads to the thought that perhaps the United States of America could indeed be restored, so an unusually inspired young man, Ford (Laren Tate) is deputized with the "Neither snow, nor rain..." oath to become the country's second Postman. At the town of Pineview, the attractive Abby (Olivia Williams), who has an impotent husband, asks The Postman to impregnate her. After Abby's husband is killed during a raid by Bethlehem, she is taken prisoner but injures Bethlehem and makes an escape. Pregnant, she spends the winter nursing the wounded Postman in a snowbound cabin. When spring comes, they emerge to discover that Ford has organized an entire squad of mail deliverers who regard The Postman as a mythical hero. The Postman reluctantly accepts his messianic role in the rebirth of the country, even as it becomes clear that the rebel force must ultimately battle and defeat the Holnist army in order to regain the American Dream. ~ Bhob Stewart, Rovi
People Who Like this movie also like
Critic Reviews for The Postman
Audience Reviews for The Postman
½
Costner plays with an unlikely concept: that the little threads that form society are among the most resonant , like a thing as easily dismissable as the delivery of the mail being the hope in an apocalyptic aftermath. Sometimes corny, yes, but a point well taken.
Kevin M. Williams
Super Reviewer
Considering all the flack that The Postman has received, I'm surprised that I enjoyed the film, and that it is actually pretty good. The film is certainly better than what the mainstream critics have said about the film, and I think that this film is quite frankly underrated. The film is pretty entertaining, and has a pretty good cast to support the film. Kevin Costner tends to direct biog, sweeping epic style films, and though this isn't exactly Dances With Wolves, the story is quite grand. What surprised me about The Postman was Will Patton's performance, he was really intense on-screen, and he plays a great villain in any film he does. Patton lights up the screen, and he is a terrific antagonist. The Postman is a very good, underrated film that Costner fans should check out. The Postman is quite frankly underrated and it's a better film than what most critics have said. This film has a good story, despite the fact that it's not perfect, the film is entertaining and has a good cast to boot. The Postman is well constructed post-apocalyptic action drama that doesn't deserve the flack it has received. I agree that the film could have been much better, but for what it is, The Postman is good entertainment. Kevin Costner directs an entertaining film that is far better than what most people have said it would be. Watch this film with an open mind, and you be the judge. I enjoyed it, it's not perfect, but it definitely isn't awful.
Sometimes I feel kind of sorry for Kevin Costner. Two out of two post-apocalyptic movies he's made, that both flopped and were torn a new one by the critics. One being Waterworld, which I personally find highly underrated, and the other being this, which altough not as good, has also become the victim of an undeserved degree of heckling. I may concur on it being cheesy and weak in its writing, but in a grander perspective, it's actually not that bad. It was worth the view at least, even if it's a little too lengthy for its own good.
The Postman Quotes
| | |
| --- | --- |
| Bandit #20: | A Postal Carrier from the Restored Republic of California. Who are you? Postmaster Ford Lincoln Mercury. It's an Honor sir! |
| | |
| --- | --- |
| The Postman: | Things I like about my ass... |
| The Postman: | The things I like about my ass... |
| | |
| --- | --- |
| The Postman: | I know you... you're famous. |
| Bridge City Mayor: | I once was. Sort of. Not anymore. |