Le Premier Jour du Reste de ta Vie (The First Day of the Rest of Your Life)
(2008)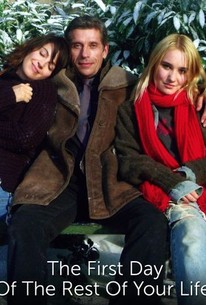 Le Premier Jour du Reste de ta Vie (The First Day of the Rest of Your Life) Photos
Movie Info
Five random days in the lives of a French family, spread out over a dozen years, paint a telling picture of the ups and downs of human relationships in this comedy-drama from France. Robert Duval (Jacques Gamblin) is a taxi driver who is married to Marie-Jeanne (Zabou Breitman), who has shed the bohemian ways of her youth with the passage of time. Robert's father (Roger Dumas) has been generous enough to give his son the comfortable home he shares with Marie-Jeanne and their children, but that doesn't mean there's always a genuine respect between them. Robert and Marie-Jeanne have three children -- their eldest Albert (Pio Marmai) is struggling with the rigors of medical school when we first meet him, while Raphael (Marc-Andre Grondin) is a teen trying to decide what to do with his life and Fleur (Deborah Francois) is still learning to be comfortable with her femininity. Between 1988 and 2000, the Duval family finds themselves dealing with the sort of life changes that affect most families, seeming both typical and revelatory at the same time. Le Premier Jour Du Reste De Ta Vie (aka The First Day Of The Rest Of Your Life) was the first French feature for writer and director Remi Bezancon after making his debut with the Quebecois picture C.R.A.Z.Y.
Critic Reviews for Le Premier Jour du Reste de ta Vie (The First Day of the Rest of Your Life)
Audience Reviews for Le Premier Jour du Reste de ta Vie (The First Day of the Rest of Your Life)
½
Every so often a film comes along which genuinely surprises you. The more one reads and learns about film, the more this knowledge threatens to cloud and prejudice one's judgement, to the point where the only surprises are crushing disappointments. The First Day of the Rest of Your Life is a great reminder that sometimes the best thing is to go in completely cold with nothing but hope. To judge a book by its cover (so to speak), there is much about First Day that would leave a seasoned filmgoer feeling uneasy. It's a drama about a fairly wealthy middle-class family going through difficult times - which conjures up horrible memories of the works of Noah Baumbach. The title smacks of the kind of forced, sugar-coated, self-help optimism that has dogged the later efforts of Cameron Crowe. And the opening credits, with its pop soundtrack and photo montage, lead us to expect something maddeningly quirky, in the manner of Little Miss Sunshine. Fortunately, it isn't long before all such fears and judgements are laid to rest. Once we recognise such stereotypes as the thin and petty generalisations that they are, First Day emerges as a damn fine piece of dramatic filmmaking. We see the lives of the different family members unfold with complete naturalism and humanity, and the stories which emerge are invariably relevant, interesting and above all real. Like a number of contemporary biopics, First Day consists of a series of vignettes spanning a couple of decades, which have both narrative and thematic connections. This device is interesting because it manages to be both episodic and narrative: it tells a proper story with a beginning, middle and end, but it also replicates the selective way in which we remember life. Moving from one time period to the next is like seeing old friends after many years, or watching old home videos: you get both the in-depth appreciation for the moments that play out and, though memory, an understanding of their context and importance. Because the action isn't constrained by a desperate need to push on towards a pre-ordained conclusion, the characters are allowed to emerge of their own accord. None of the family members feel like rough cyphers for the author's own problems, or a vehicle for their obsessions (for instance, Baumbach's belief that all writers are inherently fascinating, no matter how repulsive or obnoxious). They feel like people we could feasibly meet and come to know, and we grow to love them very quickly. First Day takes us through a gamut of emotions as it explores a number of themes relating to family life and the process of growing up. Much of it is about love, or more specifically the extent to which love is often fleeting or unrequited. We follow the eldest son played by Pio Marmai (a dead ringer for Michael Sheen), as he meets his future wife from making too much noise in his new flat. We see them fall in love, marry but then slowly start to drift apart following his grandfather's death. The younger son (Marc-Andre Glondin) has a flashback about halfway through to an air guitar competition (of all things) where he briefly meets a girl backstage. He tries to chat her up, she gives him her number with the promise of 'lessons', but he loses her number on the journey home. Having remembered it from dreaming about her, he calls it, only to find that she has long since moved. It's a beautifully judged moment, taking a familiar scenario and playing it with a refreshing absence of irony or spite. Despite its generally warm tone, First Day isn't afraid of depicting tragedy or the darker aspects of family life. The first of these relates to the youngest member, the daughter named Fleur (a very good performance by Deborah François). She loses her virginity to an older boy, someone who at first seems to be insightful and artistic (he listens to The Doors) but who is actually a coward and a jerk. When her brother turns up to confront him, he pulls a samurai sword on him, but doesn't have the conviction to take it any further. This experience shapes Fleur as she goes through the film with multiple bad relationships and declining self-esteem. The film explores death on a number of occasions, and each time these events are handled with just the right blend of poignancy and pathos. It begins and ends with a death - the family pet at the beginning and the father at the end. In between the wine-loving grandfather (Roger Dumas) dies on the day of his grandson's wedding, and the mother comes close to death in a horrible car accident. Having handled its happier sections so well, this could be the point where First Day falls apart, tipping over into trite sentimentality or milking the sad sections for as long as possible. But first-time director Remi Bezançon resists the temptation to over-egg things; he keeps the characters' emotions in check and uses the soundtrack to set the overall tone. His choices are populist but appropriate, capturing the bittersweet nature of these moments. This is particularly true of the ending, where the father's ashes are scattered into the sea to the sound of Lou Reed's 'Perfect Day'. Music also plays a large part in the story of First Day. On top of the storyline involving the air guitar concert, there is a section early on devoted to the grunge movement, which Fleur loves but neither of her parents understand. In a moment of dry comedy, we see Fleur and her brother returning home after a party to find their mother dancing in the front room. The brother remarks she is finding her own version of grunge, and the two burst out laughing. If there is a message to First Day, it is that family life is tough and divisive, but ultimately worth it. For all the flaws, faults and foibles that a family cultivates, and all the times when characters hate their kin and threaten to leave for good, in the darkest times they survive by coming together and appreciating the bonds that have been formed around them. It's not the most profound or insightful conclusion, but this is not a 'message film' in the strictest sense, and there is enough to enjoy in the characters for you to almost forget why you are watching them in the first place. But even if your view of family life adheres closer to that of Philip Larkin ("they f*** you up, your mum and dad"...), there are still plenty of moments in the film that will raise a smile. The comic content varies from a running joke about walking into beams to an awkward encounter between the eldest son and his mother when she comes into his surgery wanting her breasts done. One of the biggest laughs comes from a story the father tells about sending some of his pubic hair to a girl he admired - a story which culminates in another boy being expelled and ending up with the woman he was trying to woo in the first place. The First Day of the Rest of Your Life is a genuinely charming film. It's not the most radical or thought-provoking constructions, and fans of Woody Allen or spikier comedies may lose patience in the lighter moments. But for the rest of us, it's a very pleasant diversion for a couple of hours, with moments of warmth, mirth, tragedy and above all genuine drama. Most of all, it proves that films about families having problems don't always have to make us lose the will to live.
Daniel Mumby
Super Reviewer
Le Premier Jour du Reste de ta Vie (The First Day of the Rest of Your Life) Quotes
There are no approved quotes yet for this movie.