Quicksilver Highway
(1997)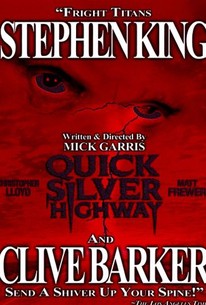 AUDIENCE SCORE
Critic Consensus: No consensus yet.
Quicksilver Highway Videos
Quicksilver Highway Photos
Movie Info
Body parts take on a life of their own in these two below-par horror stories made for television. In one story, a pair of teeth bite into a nasty hitchhiker at an opportune moment, and in the other, an artificially attached hand leaves the body it belongs to and takes off for a series of adventures.
Rating:
PG-13
Genre:
, ,
Directed By:
Written By:
In Theaters:
On DVD:
Runtime:
Studio:
Anchor Bay Entertainment
Cast
Critic Reviews for Quicksilver Highway
All Critics (3) | Fresh (0) | Rotten (3)

Audience Reviews for Quicksilver Highway
½
A story from Stephen King and a story from Clive Barker were each adapted into this anthology film. Somewhat tamer than the actual stories, the framing story was very unnecessary. I don't think either Barker or King would be happy about this adaptation.
Sylvester Kuo
Super Reviewer
½
An omnibus film like those popular in the 70s and 80s, this television movie feels more dated than it is. Both stories suck as does the frame tale that connects them. Nothing scary, brutal, or even remotely interesting ever happens. Instead, the film is like a bad 87 minute of Tale from the Crypt.
Al Miller
'Quicksilver Highway' is the collaboration of two of the world's most talented literary horror writers, Stephen King and Clive Barker. It is a rather short anthology of two terrifyingly twisted tales, with an inset story featuring Christopher Lloyd (Back to the Future). But do they terrify the average film-goer? A wandering storyteller, Aaron Quicksilver (Lloyd), narrates the tales in two strikingly different locations: Stephen King's 'Chattery Teeth' along a deserted stretch of desert highway and Clive Barker's 'The Body Politic' within the carnivalesque setting of a funfair. The more interesting of the two tales is 'Chattery Teeth', which tells of a psychopathic hitchhiker who falls prey to a relentless and dangerously-sharp set of chattering teeth owned by the travelling salesman driving the car. 'Chattery Teeth' is taken from a short story written by King and first published in 'Cemetery Dance' magazine in the nineties. Similar to the stories found in 'Creepshow' and 'Creepshow 2', it is a bizarre and disturbing story with a twist in the tail (think 'Twilight Zone' and the 'Ray Bradbury Theater'). The lesser of the two is Barker's 'The Body Politic'. Here, a hand comes alive, goes completely out of control, and eventually attacks its owner. The story is taken from Clive Barker's 'Books of Blood: Vol 4' and is actually quite an entertaining and intelligent story ... in print. However, attempting to re-create this story on film just doesn't work. The effects are nothing short of laughable, which inevitably ruins a good tale. 'Quicksilver Highway' is directed by Mick Garris, who has collaborated with Stephen King on more than one occasion (see 'Sleepwalkers', 'The Stand', 'The Shining' (TV), and the forthcoming 'Riding the Bullet' and 'Desperation'). He is also the man behind some of the 'Twilight Zone' episodes and 'Freddy's Nightmares', the latter explaining his less than efficient effort with 'Quicksilver Highway'. Nevertheless, the cast is well chosen - Matt Frewer (The Stand), John Landis (dir. 'An American Werewolf in London'), Bill Nunn (Kiss the Girls), and Clive Barker - and although the movie does have its tedious and ridiculous moments (check out Lloyd's fetishistic leather garb), it is watchable. Fans of 'Tales from the Crypt' and 'Tales from the Darkside' will certainly want to give this film a look-see.
Cassandra Maples
Super Reviewer
Discussion Forum
Discuss Quicksilver Highway on our Movie forum!
News & Features