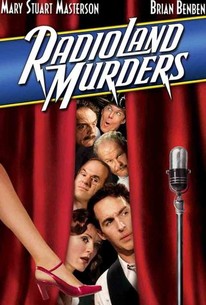 Radioland Murders
1994, Mystery & thriller, 1h 48m
17 Reviews
2,500+ Ratings
Where to watch
Rent/buy
Rent/buy
Rent/buy
Rate And Review
Movie Info
The secretary at radio station WBN, Penny Henderson (Mary Stuart Masterson) is frantically trying to keep things in order as a broadcast goes on the air. Chaos breaks loose, however, when a series of murders occurs in the building, accompanied by an enigmatic voice over the airwaves. Penny's writer husband, Roger (Brian Benben), tries to deduce who the killer is, but he also happens to be the prime suspect. As he evades the law, Roger gets closer to uncovering the identity of the murderer.
Audience Reviews for Radioland Murders
It does come across that everything Mr Lucas has put his chubby finger to since Star Wars doesn't quite turn out so well (apart from 'Indy'), the recent 'Red Tails' for example. This goofy slapstick comedy on paper had promise and I was quite excited to watch it as the period setting plus the 'who dunnit' murder aspect I like. The whole thing sounded like a kind of 'Clue' or 'Haunted Honeymoon' type venture, that nice dated 30's to 50's setting with smart suits with well spoken chaps n dames all set within a spooky atmosphere. Unfortunately this film is really quite boring and insanely stupid, there is way too much slapstick in your face screwball comedy...and its not even very good, just forced. Everyone is falling arse over tit every five minutes and the editing is so damn choppy, you zip from one pratfall to the next as if they were individual sketches pasted together. Awesome cast line up, every well known character actor in Hollywood has been stuck in this but that can't save the film. Brian Benben was for me a bad choice of lead for the story, he's one of those guys that just fits TV roles better and he's also annoyingly unstable here with the most lame physical comedy display. Good ideas with a great era and concept to homage but this falls flat on its face, it should of been a classic but somehow its been fudged well and truly, damn it Lucas!

Gosh, almost as pedantic as a Woody Allen movie. The characters are cardboard cutouts against the CGI backgrounds, which were a test-phase for Star Wars prequels. It's claustrophobic and annoying. I didn't want to be there.
See Details