The Ring Virus
(1999)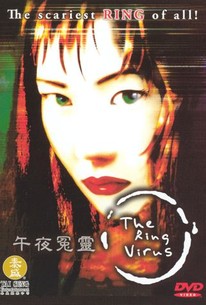 AUDIENCE SCORE
Critic Consensus: No consensus yet.
Movie Info
Experience a whole new take on Koji Suzuki's terrifying tale as South Korean filmmaker Kim Dong-bin offers his own unique take on the international best-seller that inspired both Ringu and The Ring. When journalist Sun-joo's (Shin Eun-gyeong) cousin is killed under mysterious circumstances, Sun-joo discovers a horrifying video tape that is said to kill anyone who watches it after seven days have passed. Determined to solve the mystery of the deadly videotape and stop the spread of the curse before it spirals out of control, Sun-joo must enlist the help of a disgraced neurologist if she has any hope of surviving to see the end of the week.
Cast
Critic Reviews for The Ring Virus
There are no critic reviews yet for The Ring Virus. Keep checking Rotten Tomatoes for updates!
Audience Reviews for The Ring Virus
It is very annoying when the Big Hits are copied from all the side of the Globus.
½
An unnecessary Korean remake perhaps, since it's very similar to the Japanese original, Ringu, but the central performance is very good and there are just enough quirks - including a vibrant color scheme - to make this an interesting experiment. It's also apparently more faithful to the source material.
Daniel Parsons
Super Reviewer
One of the things I find interesting is to view and compare different versions of the same story, and this film was one of those at the top of my list. The Japanese film essentially took the majority of the novel's plot, and exorcised (pardon the pun) anything it didn't particularly like. A few minor tweakings here and there, and a cult classic was born. The makers of The Ring Virus didn't go for this approach. It is still tweaked in a few places - most notably the female protagonist, and changing the setting. However, the makers essentially took all the plot elements from the novel and attempted to make it into a film. The trouble is, in attempting to be faithful, it brings in elements which don't work as well on film as they did on paper. So while it's not necessarily a bad film, it's more that it's more appealing to hardcore fans, purists, or people who simply prefer the novel's angle to the Japanese film's angle. Personally I prefer the Japanese film, and I have the novel to explore what was left out, so this doesn't interest me that much now I've seen it. But this film is out there for those of you who won't agree with me.
The Ring Virus Quotes
There are no approved quotes yet for this movie.