Romy and Michele's High School Reunion
(1997)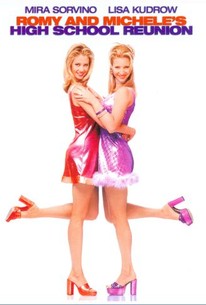 Romy and Michele's High School Reunion Photos
Movie Info
Romy and Michelle (Mira Sorvino and Lisa Kudrow) are two unnatural blonde bimbos who were inseperable in high school and are now living together in L.A. They learn about their 10-year high school reuninon and desperately want to go and blow everyone away with jelousy in revenge for the hell that the A-list crowd made their lives in high school. Unfortunately they have no real jobs, no boyfriends, and no accomplishements to speak of. So they borrow a car, dress in business suits and make up a story about how they invented post-it notes. Along the way they have a huge fight and end up making a fool of themselves when they are exposed for the frauds they are. That's when the two decide to just be themselves and blow everyone away with the fact that they like who they are. The jokes in the movie, as with any movie, run hot and cold, but here they come flying one after the other with little setup or room for reaction that the movie almost feels like a parody of another movie. Despite this, there are some truely hilareous moments. As usual, Garofalo is the secret backup weapon as she out-performs in her secondary role as she's done in so many other films. What sets Romy and Michele apart as characters though, is that dispite having gone nowhere after ten years, they are still friends who are closer to each other than family. How many people can claim to have that?
People Who Like this movie also like
Critic Reviews for Romy and Michele's High School Reunion
Audience Reviews for Romy and Michele's High School Reunion
½
Almost painful to watch. Mira Sorvino's dumb blonde act doesn't ring true to me. How do they live such an extravagant LA lifestyle without jobs? The real reunion ending makes the inane movie a little better. Mira seems like she can actually dance, and Alan Cumming is surprisingly sexy.
Alice Shen
Super Reviewer
This movie is hilarious. Not only did I love it because Lisa Kudrow was in it but I loved it because of the humor and the characters. Michele: You had gotten really thin by then. Romy: I know. I was so lucky getting mono, that was like the best diet ever. Love this movie and would recommend it if you love to laugh like I do. Just Great! Lisa Kudrow Rox! Don't Miss Out! Such a fun movie & the music rocks! :) I love it!!!! :) :) :)
Cassie Hill
Super Reviewer
Lisa Kudrow and Mira Sorvino have THE most brilliant comic timing. I have so much fun watching this movie. This is the original Legally Blonde and all its derivatives, folks.
Jennifer Xu
Super Reviewer
Romy and Michele's High School Reunion Quotes
| | |
| --- | --- |
| Michele: | I hope your babies look like monkeys. |
| | |
| --- | --- |
| Romy: | I invented post-its. |