Savage Streets
(1984)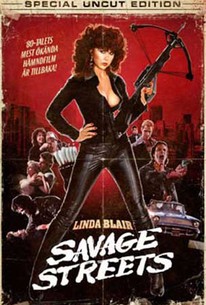 AUDIENCE SCORE
Critic Consensus: No consensus yet.
Movie Info
Heather (Linnea Quigley), the deaf-mute sister of Brenda (Linda Blair) is gang-raped in a drawn-out, violent scene at the beginning of this routine vengeance movie, a scene that provides the motivation for Brenda's rampage through the rest of the film. Dressed in a special outfit that bares enough skin to suit the standards of this genre and armed with a crossbow, Brenda goes after the young punks in the "Scars" gang who raped her sister -- with predictably gory results. Surrounding this miniature Charles Bronson is a society burdened with parodies of "good" people: the school principal who is only superficially tough, and the upper-class teens whose thought processes were arrested shortly after kindergarten. Stereotypical and transparent, this teen movie is interesting because it does promote a woman in a "hero" role, but the subject matter and violence will not appeal to everyone.
Critic Reviews for Savage Streets
Audience Reviews for Savage Streets
½
It's "The Satins" versus "The Scars" in this rape-revenge/action-drama which see's the busty Linda Blair lead her all-girl gang in a dangerous tit-for-tat feud with a gang of street punks which descends into rape and murder. It's all very 80s, cheesy and trashy. The rape scene is not as graphic as other that have caused controversy, but it's still an unpleasant viewing which the UK censors have just passed fully uncut. Overall it's really quite enjoyable, especially for fans of 80s movies.
½
What can I say about this film? If you are interested in watching a brutal but fun 80's exploitation film, then this is a must watch. The acting is way over the top, the misogyny is awe inspiring, and the hair is immaculate. If Linda Blair ever had a game, she is certainly at the top of it here. Not for the faint of heart, but if you are a true sadist at heart you must not pass this up.
Suitably trashy 80's revenge film but it's too slow and has a disappointingly low body count.

Brenda: Too bad you're not double-jointed.
Fargo: Why?
Brenda: Because if it were, you'd be able to bend over and kiss your ass goodbye!
A.D. Villarreal
Super Reviewer