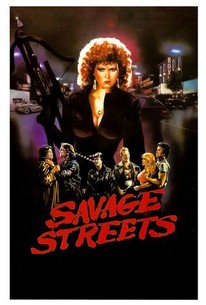 Savage Streets
1984, Action, 1h 33m
4 Reviews
1,000+ Ratings
Rate And Review
Movie Info
Crossbow-armed Brenda (Linda Blair) hunts down a Hollywood gang led by a punk (Robert Dryer) with a razor-blade earring.
Audience Reviews for Savage Streets
As revenge-sploitation films go, it's surprisingly good.

Gloriously trashy. Linda Blair is a terrible actress, but she gives it her all, and though the movie keeps stalling with scenes that have nothing to do with the plot, it always remains a lot of fun.

What can I say about this film? If you are interested in watching a brutal but fun 80's exploitation film, then this is a must watch. The acting is way over the top, the misogyny is awe inspiring, and the hair is immaculate. If Linda Blair ever had a game, she is certainly at the top of it here. Not for the faint of heart, but if you are a true sadist at heart you must not pass this up.

It's "The Satins" versus "The Scars" in this rape-revenge/action-drama which see's the busty Linda Blair lead her all-girl gang in a dangerous tit-for-tat feud with a gang of street punks which descends into rape and murder. It's all very 80s, cheesy and trashy. The rape scene is not as graphic as other that have caused controversy, but it's still an unpleasant viewing which the UK censors have just passed fully uncut. Overall it's really quite enjoyable, especially for fans of 80s movies.
See Details