Semi-Tough
(1977)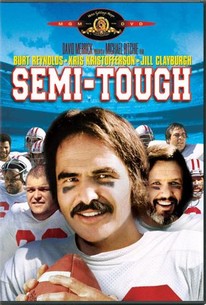 Movie Info
Burt Reynolds and Kris Kristofferson star as two pro-football pals who both fall for the team-owner's very rich daughter. Kind of goofy, kind of funny, and somewhat endearing--those are the qualities that surface in this light-hearted comedy built upon an extremely predictable scenario.
Critic Reviews for Semi-Tough
Audience Reviews for Semi-Tough
Glib, slick and self-righteous, Semi-Tuff romanticizes two football heroes, both self-obsessed (but in different ways) and critical of all who aren't likewise inclined. Its interesting most as a historical window to cultural thought at the time.
Kevin M. Williams
Super Reviewer
This movie came out in 1977 and basically makes fun of all the fads going on in the late 1970's. The football story is just a background story used to bring in the different fads. Unfortunately if you didn't live through that era you probably won't get the jokes. There was a lot of crazy stuff going on in the 1970's. Lot of ugly clothes too. This movie just touches the highlights but it does capture the mood and feeling of those years. I went and saw this movie in the theater in Stillwater Oklahoma when I was in college. I thought it was really funny then. I got it on Laserdisc when it came out on Laserdisc. Bert Reynolds just plays himself but is funny. Better than the other movies he made back then.
Donald White
This film pokes fun at the self-help, empowerment movements of the 1970's more than anything else. I never saw what the big deal with Jill Clayburgh was. This film rates somewhere above Gator but below The Longest Yard.
Sean Gillespie
Super Reviewer
Semi-Tough Quotes
There are no approved quotes yet for this movie.
Discussion Forum
Discuss Semi-Tough on our Movie forum!