Shinjuku dorobo nikki (Diary of a Shinjuku Thief)
(1974)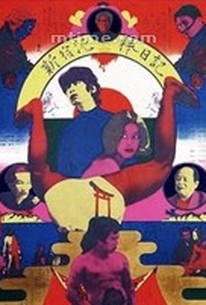 AUDIENCE SCORE
Critic Consensus: No consensus yet.
Shinjuku dorobo nikki (Diary of a Shinjuku Thief) Photos
Movie Info
The title character, played by Tadanori Yokoo, takes the first step on the road to ruin when he steals an inconsequential item from a bookstore. Caught in the act by the shopgirl (Rie Yokoyama), the shoplifter becomes the girl's sexual partner-and virtual slave. The film is rife with erotic symbolism that will be lost on no one. Originally titled Shinjuku Dorobo Nikki, Diary of a Shinjuku Thief is director Nagisa Oshima's homage to controversial French author (and unregenerate thief) Jean Genet. ~ Hal Erickson, Rovi
Critic Reviews for Shinjuku dorobo nikki (Diary of a Shinjuku Thief)
There are no critic reviews yet for Shinjuku dorobo nikki (Diary of a Shinjuku Thief). Keep checking Rotten Tomatoes for updates!
Audience Reviews for Shinjuku dorobo nikki (Diary of a Shinjuku Thief)
"Diary of a Shinjuku Thief" may require two viewings. Revel in the jarring twists and tangents of Nagisa Oshima's direction on the first try, and then backtrack to get a better handle on the plot. And yes, the persistent comparisons of Oshima and Jean-Luc Godard are warranted. The story is not so complicated -- only the way it is told. A furtive young man gets a charge out of repeatedly stealing from a certain bookstore, and the attractive clerk who keeps catching him is drawn into his game. (Or are things not what they seem?) The two become a thrill-seeking couple who pursue risky activities throughout the city as a mode of foreplay. Voyeurism, rape, exhibitionism, seppuku, gender switching, submission...it's all here. The girl even flaunts her flowing menstrual blood. Eventually, they join an underground theater company, which I suppose is the ultimate extension of their playacting. The story's odd details, peripheral set pieces and assaultive editing are what make the film so distinctive and unsettling. The occasional switches from black-and-white to color are just the beginning. There's a minstrel of sorts who recurrently pops in to strum guitar and sing about "Ali Baba, town of mystery." The same performer is also part of a guerrilla group that stages street muggings, ending with the victim's reveal of an ominous belly tattoo that apparently is a sign of power or holiness. The startled attackers then stand on their heads as a show of respect. There's a hotel that wickedly helps men with their sexual conquests by showering fake rain outside the rooms during crucial moments, making it inconvenient for the women to leave. The couple visits an unconventional psychologist who shows them pornographic drawings, pressures them to disrobe and recklessly declares that the girl is a closet lesbian. There's a motif of wall clocks and international time zones which remains largely a mystery. And a memorable scene in the bookstore after hours, where the girl artfully builds a pile of books while the soundtrack layers a din of all those texts being murmured. Strangest of all, there's a 10-minute sequence that drops the narrative altogether and depicts a real-life conversation about sex between a pack of older actors (apparently borrowed from Oshima's concurrent "Death by Hanging"). The film is loaded with such quirky diversions, suggesting a personal work driven by Oshima's own spontaneous whims and impulses. It ends with what appears to be legitimate riot footage -- yet another random insertion that is left unexplained. There are no concessions made to people less familiar with Japanese culture, and this lack of compromise is both frustrating and intriguing. "Diary of a Shinjuku Thief" may be disorienting, but it's an exciting challenge.
Eric Broome
Super Reviewer
Shinjuku dorobo nikki (Diary of a Shinjuku Thief) Quotes
There are no approved quotes yet for this movie.