Sky High
(2003)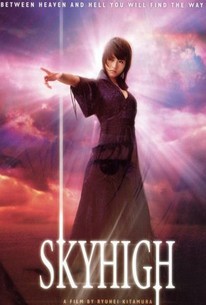 AUDIENCE SCORE
Critic Consensus: No consensus yet.
Movie Info
From Japanese director Ryuhei Kitamara (Versus, Azumi) comes this supernatural tale of grief and vengeance based on the popular manga by author Tsutomu Takahashi. When Detective Kanzaki Kohei's (Shosuke Tanihara) wife, Mina, is brutally murdered, his mourning soon gives way to rage and his search for the killer turns into an all-consuming obsession. Faced with the choice of ascending, languishing, or descending when she arrives at the Gate of Hatred in the afterlife, Mina is given 12 days to choose her ultimate fate. As Mina struggles to come to terms with her death, she follows both her husband and the serial killer, who is attempting to resurrect the Lord of Darkness by committing a series of horrific ritual murders. Will Mina accept death and move on toward reincarnation, become a ghost that will forever haunt the living, or sacrifice her soul for eternity by seeking vengeance on her killer?
Critic Reviews for Sky High
There are no critic reviews yet for Sky High. Keep checking Rotten Tomatoes for updates!
Audience Reviews for Sky High
½
Kanzaki is a detective searching for a serial killer who is killing young women and keeping their hearts. On his wedding day his wife becomes the killer's next victim sending Kanzaki on a quest for revenge to murder the person who killed his wife. But there is so much more! What starts as a grizzly murder mystery/revenge film opens up to become a truly epic masterpiece. Part love story/supernatural ghost story/action movie. Sky High has it all. Superb cast and terrific acting. Cinematography is amazing, and I love the special effects. Sets are great and the soundtrack really gets you into the action scenes. My only complaint is that the movie does get a little long near the end. If you are looking for something different see this movie. You won't regret it. 3 1/2 stars 2-6-13
Bruce Bruce
Super Reviewer
Sky High, from Ryuhei Kitamura, goes supernatural with some stylization.
The story plays around with some good ideas; however, the film does have its ups and downs in the execution. At times, the storytelling is monotone and it does get tedious with some of the dialogue, but the directing of Ryuhei Kitamura and the occasional overacting tends to liven the film at times.
The action is stylized and while popping up throughout the story, is much saved until the final act. Female characters handle most of the swordplay and that is a bonus.
Yumiko Shaku gets it done when needed. Shosuke Tanihara has small spurts of entertaining acting. Takao Osawa delivers the more lively of performances, while the lovely Kanae Uotani is one solid female assassin.
Sky High opens the gate of intrigue from time to time; just, not the entire time.
½
A Tokyo cop's bride to be is murdered by the serial killer he is tracking and returns from the afterlife to help bring him to justice. Although Ryuhei Kitamara's film shares the usual ingredients of ass-kicking babes with swords, an evil megalomaniac and new age spiritualism with Manga, its approach is an odd mix of J Horror and action fantasy that doesn't quite gel. The script is just a little too flabby and wordy for a high octane action film but at the same time does not have the atmosphere or tension to be classed as true horror. But by far the biggest drawback is the lack of action, which is surprising considering his pedigree as director of stylish hack and slasher Azumi and gleeful schlock horror Versus which were both really rather good. The effects are also a little straight to DVD and the attractive cast can err on the side of ham a little too often. The intriguing premise and some nice costumes make it watchable enough but it feels half-hearted and falls a little flat in execution.
Sky High Quotes
There are no approved quotes yet for this movie.