Non ho sonno (Sleepless)
(2001)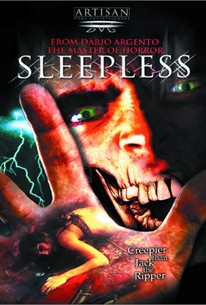 Non ho sonno (Sleepless) Photos
Movie Info
Director Dario Argento, best known for his stylishly bloody horror films, revisits the style and themes of his early directorial efforts in this tense crime thriller. A prostitute (Barbara Lerici) discovers one of her customers has a taste for much rougher sex than she's willing to give him; trying to sneak away from her john, she accidentally walks off with one of his scrapbooks, from which she discovers her client apparently committed a series of unsolved murders almost 20 years earlier. The john tracks down the prostitute and murders her to insure her silence; this awakens in him the desire to kill again, and soon he's once again leaving a bloody swath across Italy. Ulisse Moretti (Max Von Sydow), the police detective who investigated the earlier wave of killings, is brought out of retirement when clues link the new murders to those committed in the early '80s, and the aging cop finds his sometimes foggy memory jolted back to recognition by the growing number of bloody victims. Meanwhile, Giacomo (Stefano Dionisi), whose saw his mother being killed by the murderer as a boy, learns that the killer is back at work, and sets out to investigate the case on his own. Non Ho Sonno features an original musical score by the rock band Goblin, who also wrote music for a number of Argento's best-known films.
Critic Reviews for Non ho sonno (Sleepless)
Audience Reviews for Non ho sonno (Sleepless)
Crime horror/thriller from Italian gore daady Dario Argento. A serial killer persumed dead appears to be alive and killing again but things don't add up as people saw the killer get shot in the head. Detectives on the case seem baffled so enter a retired old detective who can't help but get involved, along with the son of one of the killers victims. This starts brilliantly with an action sequence on a train, which has as much tension as any of the shitty hollywood blockbusters of today. There's also the grisly, almost exploitation style murders and gore on offer, a cool twist ending and the usual great soundtrack from Goblin. For people unfamiliar with Argento, you can expect some dodgy acting and editing and the occassional questionable accent. But you can also expect great gore and some interesting twists and turns and direction along with some cool music. Overall, Sleepless is a well crafted horror movie for horror movie fans.
It says written and directed by Dario Argento but he isn't capable of such boring garbage. Therefore, I can only assume there's another Dario Argento, his family was held at gunpoint, or he was having a bad day. Either way it's not good.
Marcus Woolcott
Super Reviewer
½
If you're a fan of Argento, then you'll enjoy Sleepless. It is Argento doing what he does best. Stringing you along from one grizzly murder to another. There are several very nicely shot scenes here and lots of blood and gore. Though the story as a whole seemed a bit "rehashed" and the ending, a bit predictable...I'm always willing to "hop in the car" and go for another wild ride with Mr. Argento.
Non ho sonno (Sleepless) Quotes
There are no approved quotes yet for this movie.