Tag
(2018)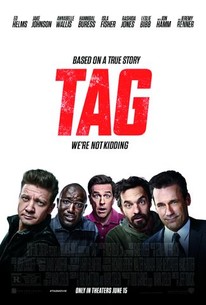 Movie Info
For one month every year, five highly competitive friends hit the ground running in a no-holds-barred game of tag they've been playing since the first grade--risking their necks, their jobs and their relationships to take each other down with the battle cry "You're It!" This year, the game coincides with the wedding of their only undefeated player, which should finally make him an easy target. But he knows they're coming... and he's ready. Based on a true story, "Tag" shows how far some guys will go to be the last man standing.
News & Interviews for Tag
Audience Reviews for Tag
In retrospect, Tag was definitely poorly marketed and a clear missed opportunity to make this film out to be something its not. Tag is a drama disguised as a comedy, and I think that's the way people should go into it thinking. Even amidst its unbelievable true source material, there is a great deal of heart that Tag delves into. Yes, this a 90 minute film based around a group of friends that plays tag every year for the entire month of May, but there's so much more beneath the surface that gets explored here. And I think most people are not critiquing the movie based on that, but rather, the failed comedic attempts in Tag. And admittedly, the movie isn't all that funny. There are some standout scenes and performances, particularly anything involving Jeremy Renner, Hannibal Buress, Leslie Bibb, and Isla Fisher. They were very funny, but the film succeeds far more in its subtle attempts at drama than it does in its blatant attempts at making you laugh. But I really enjoy the types of films that move me in a personal way. Tag does that due to my nostalgia for my childhood playing outside with my neighborhood friends. The idea of having something like that end for any number of reasons always saddened me. And the reality is, those things don't live on forever. So when Tag explores those themes it really hit home. Maybe that wasn't exactly the filmmakers intentions, but that's the way I interpreted the film. Sometimes that's all you need to connect to a film. 8.5/10
Thomas Drufke
Super Reviewer
½
ag is based on the true story of a group of grown men who continue to play a highly competitive game of tag for 30 years. There are even real clips of the real men before the end credits, raising the hope for a potential documentary on the subject. The Hollywood version is a sprightly ensemble comedy that's not afraid to go silly or dark in its pursuit of laughs. Given the nature of its premise, there is a lot of slapstick to behold, but it was cleverly staged, routinely netting some big laughs from me. This is a definitely adults-only R-rated venture and the movie proudly wears this identity on its sleeve, finding strange and exciting comic detours that can walk a fine tonal line, like an ongoing bit about miscarriages that had me wincing as much as I was laughing. The main characters are all relatively familiar types; Ed Helms is the high-strung dweeb, Jake Johnson is a sarcastic stoner, Jon Hamm is a smarmy exec, Hannibal Buress is as laconic as his standup persona. There are a string of supporting characters (often female) that add very little, including a rekindled love triangle with Rashida Jones, a journalist who tags along on the game and adds nothing, and Isla Fisher as the grating, always-yelling, intense wife to Helms. Surprisingly, the funniest member of the movie is Jeremy Renner, an actor who heretofore had never shown much comic ability in movies. He's a formidable opponent, and every time he went into his Sherlock Holmes-styled voice over detailing the steps and mistakes of his friends, I loved it. Also, strangely, Renner's arms are actually CGI arms since he broke them days into filming. You would never be able to tell. I appreciated that Tag is directed as a comedy even during its action set pieces. It looks at action through the lens of comedy and taps into the absurdity. Overall, Tag is a fun, rambunctious comedy with some dark impulses yet it still finds room for sentiment that doesn't feel entirely out of place. 2018 is shaping up to be the year of the hearty, enjoyable R-rated comedy with Tag joining the ranks of Blockers and Game Night. Catch it while you can if the prospect of men behaving like overgrown children appeals. Nate's Grade: B
Nate Zoebl
Super Reviewer
½
NOT IT - My Review of TAG (2 1/2 Stars) While perfectly amiable, energetically made and sometimes quite funny, TAG, the feature debut by TV veteran Jeff Tomsic and written by Mark Steilen and Rob McKittrick, based on a Wall Street Journal article, only feels slightly more substantive than the game upon which it's based. You can almost hear the successful pitch made for it, "You're never gonna believe this, but there's this group of lifelong friends who drop everything one month a year to play a game of tag. You can't make this stuff up!" Sounds fun enough, but I couldn't help but asking myself throughout, "Yes, but is it a movie?" The answer? I guess, if you like your stakes really low and hyper-repetitive, then sure. Since childhood, five friends, played by Jon Hamm, Ed Helms, Jake Johnson, Hannibal Buress, and Jeremy Renner, have dedicated the month of May to play this game, with Renner's character skilled and slippery enough to never have been declared "It'. As adults at a crossroads in their various lives, the men reunite, perhaps for one last time, before apathy, aching bones and other grownup concerns take over. One could make the argument that the film serves as a thinly-veiled allegory of the demise of the alpha male, except it has no veils. THAT'S WHAT IT'S ABOUT! One could easily call this a Bro Show, except the filmmakers are smart enough to feature the various women in the mens' lives, played by Leslie Bibb, Annabelle Wallis, Rashida Jones, and most winningly by Isla Fisher, who participate in the juvenile shenanigans. The point being - again low stakes here - that women can be just a bro-ey as men. The film also does a good job of mining the dynamics of male friendships, including the oddly believable fact that Renner's character being so good at the game that they never really got to know him as a person. But there's only so far one can take this on its simple premise. I enjoyed the performances, with Hamm getting to stretch his comedic muscles more than before, Johnson doing the most with his one-note stoner character, and Buress working wonders with his dry delivery. Nobody is terrible, but I would recommend BLOCKERS if you're in the mood for adults suffering from arrested development...or how about ARRESTED DEVELOPMENT? Yeah - that's a good show. After a while, the whole affair feels like a JACKASS movie, a bunch of fun action sequences strung together until the 11th hour reveal adds a little lump-in-your-throat moment to send you out of the theater thinking at least the film had a beating heart. All true. It's taut, perfectly serviceable, yet completely forgettable storytelling.
Glenn Gaylord
Super Reviewer
Tag Quotes
There are no approved quotes yet for this movie.