Tahrir: Liberation Square
(2012)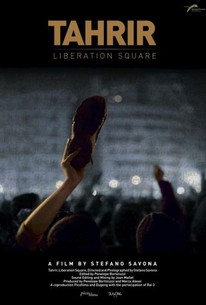 Tahrir: Liberation Square Photos
Movie Info
From facebook thumbs up to the battle of stones, a history of hope, fear, despair, anger, pride and elation, Tahrir is the real-time chronicle of the two most exciting weeks in the history of modern Egypt as lived by their protagonists. Since the 25th of January, together with thousands other Egyptian citizens, Noha, Ahmed and Elsayed have been involved in a massive movement of street protest for political freedom. By the end of the first week of urban guerrilla and brutal state reprisal it has become nothing less than a revolution to overcome Mubarak's regime. Day after day, until the capitulation of the defeated pharaoh, the film follows these young and unexpected heroes along their fierce fight to win their liberty. -- (C) Official Site
News & Interviews for Tahrir: Liberation Square
Critic Reviews for Tahrir: Liberation Square
Audience Reviews for Tahrir: Liberation Square
½
This is January 30, 2011, the 6th day of protests in Tahrir Square, Cairo. You are there. A lot of the success of being a journalist or a documentarian involves in being in the right place and the right time. That is especially true with the fascinating documentary "Tahrir: Liberation Square," as it captures a ground level view of events and what life was like in Tahrir Square(there are a few people who come and go through the days of footage) during those heady days, while occasionally providing crowd shots above the fray. In other words, you may learn a lot by reading and hearing about this but there is no substitute for seeing it as it unfolds. While some may make a case for Facebook actually having a good use by giving it sole credit for the protests, the crowd was too diverse, reaching across generations, religions and regions, for such a simple explanation. What they have in common was their opposition to Egyptian President Hosni Mubarak, some even wishing him to die.(And they may soon get their wish.) This was the first time in thirty years that people in Egypt were free to discuss politics openly. While not exactly making future plans for their country, there are of course changes they would like to see while some history leaks through.(Mind the esoterica, but this got me thinking of Sandman #18, "Dream of a Thousand Cats" by Neil Gaiman.) But this was not a group of people that only talk and chant, as they also defended themselves from groups of thugs by using makeshift defenses and weapons, often by breaking up the very street beneath their feet. Plus, this is the very rare documentary that sets the stage for a sequel. How about it, guys?
Tahrir: Liberation Square Quotes
There are no approved quotes yet for this movie.