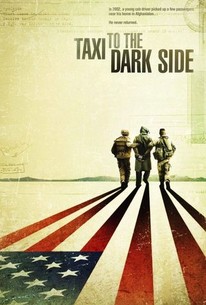 Taxi to the Dark Side
2007, Documentary/Crime, 1h 46m
93 Reviews
5,000+ Ratings
What to know
critics consensus
Taxi to the Dark Side is an intelligent, powerful look into the dark corners of the War on Terror. Read critic reviews
Where to watch
Rent/buy
Free
Rent/buy
Rent/buy
Rate And Review
Taxi to the Dark Side Photos
Movie Info
This documentary explores the American military's use of torture by focusing on the unsolved murder of an Afhgani taxi driver who, in 2002, was taken for questioning at Bagram Force Air Base. Five days later, the man was dead. The medical examiner claimed the driver died from excessive physical abuse. Taking this case as a jumping-off point, the film examines wider claims of torture that occurred at bases like Abu Ghraib and Guantanamo Bay during the Bush administration.
News & Interviews for Taxi to the Dark Side
Audience Reviews for Taxi to the Dark Side
I became ill watching this, which was the intended effect. Its one-sided, but honestly does the other side deserve a voice?

A valuable addition to the canon of documentaries centred on the Afghan war. Here is the sad tale of a man in the wrong place at the wrong time..trying to eek out a living in a war torn environment and ultimately paying a price for it.

I thought it was great at showing what actually happens when we illegally torture human beings as a nation. It was extremely graphic which I think is what people need to see to hit home. Something everyone should watch...

"Taxi to the Dark Side" is a highly insightful documentary that starts with the relatively simple incident of an Afghan taxi driver dying in custody at Bagram Army Base on December 5, 2002. While by now we may think we know most of what we can about torture and detainee abuses in the 21st century, the movie does a highly effective and disturbing job of connecting the dots, first by connecting the abuses at Bagram, first exposed by a pair of intrepid New York Times reporters, to the abuses at Abu Ghraib. This proves that they did not just happen in a vacuum and were systematic in function, being the result of orders coming from the very top which would override any moral qualms the soldiers might have by dehumanizing their prisoners.(In the resulting investigations, only enlisted men would be charged with crimes.) This would also include Guantanamo Bay where prisoners have been held without trial and access to habeas corpus and lawyers which are some of the cornerstones of a free society. It is not just the causes that interest director Alex Gibney so much but also the effects down the road. Because prisoners are routinely tortured, any information gathered will most likely be either useless or outright lies, with grave results possible. There is an example of friendly interrogation given by an experienced interrogator which proves how truly effective this approach would be by comparison. In the end, a lot of people who would have been sympathetic to the United States may now be susceptible to being fanaticized and we can already see some of this happening.
See Details