The Blob
(1958)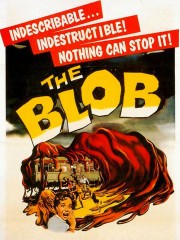 AUDIENCE SCORE
Critic Consensus: In spite of its chortle-worthy premise and dated special effects, The Blob remains a prime example of how satisfying cheesy B-movie monster thrills can be.
The Blob Trailers & Photos
Movie Info
In his first starring role, Steve McQueen plays a typical oversexed, car-lovin' highschooler who can't get anyone to believe his story about a huge meteor, which crashes to earth and begins exuding a pink, gooey substance. Affixing itself to the body of an old man, the "blob" begins parasitically sucking the life out of several unfortunate humans, growing to an enormous size. Problem is, the disappearances of the victims can all be explained (one is supposed to be out of town, another is attending a convention), so the cops still won't believe McQueen or his girlfriend Aneta Corsaut (the future Helen Crump of The Andy Griffith Show). Rallying his teen pals, McQueen finally manages to get the adults' attention-but by now, the Blob is consuming entire city blocks. In 1972, the sequel Beware the Blob followed.
more
Rating:
PG
Genre:

Horror

,

Classics

,

Science Fiction & Fantasy

,

Cult Movies

Directed By:

Irvin S. Yeaworth Jr.

,

Russell S. Doughten Jr.

,

Irvin Shortess Yeaworth, Jr.

Written By:
Kate Phillips, Theodore Simonson, Kay Linaker
In Theaters:
Sep 12, 1958 Wide
On DVD:
Nov 14, 2000
Runtime:
Cast
News & Interviews for The Blob
Critic Reviews for The Blob
Audience Reviews for The Blob
The Blob is yet another terrific 1950's Sci Fi monster flick that is among the best in the genre. This is a genre classic that is a memorable and fun film to watch like all the classic monster pictures of the period. Starring Steve McQueen that made him a star. This is an entertaining film from start to finish. This is a film that has bad looking special effects as the blob grows bigger as it eats an entire town. With that being said, that's what makes this such an entertaining ride. A simple plot, good acting and hilarious effects, it adds up to a great entertainment hour and a half of fun as you see this abomination terrorize a town. This is a memorable addition to the genre and ranks up there as one of the best classics in the horror genre. A very enjoyable and fun ride throughout, this film is never dull or boring. If you want to enjoy a mindless monster flick, and then check this one out, it is definitely worth your time and with a great cast, it is sure to appeal to any viewer looking for a mindless horror classic to watch. The 1950ès were affine time for horror films, and there was a resurgence in a good old fashioned monster film. The Blob ranks along with Frankenstein, The Mummy, Them!, Frankenstein and the Creature from the Black Lagoon as one of the finest monster movies ever made and if you love the cheesy effects, simplistic plots and lots of monster carnage, then don't pass up on this one, it is worth seeing.
The teen movie that started it all...without overdoing it on drugs and sex. Yes, this movie is a tad dated, but it's of of my favorite 50's movies and it's a classic horror movie. The special effects were really good for the time (The best part is no CGI!) and they're still fun to look at, even today. My favorite thing about this movie is not the blob attacking the town, but the lifestyle of a teen that I missed out on. I would do anything to live life as a teen in the 50's and not worry about what new technological thing is being released or the new overrated rapper that everybody likes even though he sucks. (Mac Miller, just saying.) Instead I'm stuck in a generation where teens use dumbass words like 'swag', 'dope' and 'sketch.' I even told one of my friends that I would have like to live in the 50's and his response was "Bro, that shit cray as fuck." WHAT DOES THAT MEAN?! I don't speak "gangsta" or "broseph" or whatever you call it! This movie displayed what a Friday night was like back in the 50's: Go to the movies, go to a nifty diner, order some burgers and shakes, listen to the jukebox blast some Elvis. But now a Friday night consists of idiots that state "Bro, imma get fucked up and blazed as fuck!" To be fair, places like Johnny Rockets can help recreate what a 50's lifestyle could've been like, but it's no help when people around you are texting and talking about Facebook and Jersey Shore...Anyway, back to the movie. I really think the exposition is great. The idea of a small town creates a good state of separation from other places that may be able to help. Steve McQueen is a badass. His character is so simple, yet likable. Overall, The Blob has great nostalgia value and that's really all that needs to be said.
The Blob Quotes
Dave: At least we've got it stopped.
Steve Andrews: Yeah, as long as the Arctic stays cold.
Discussion Forum
Discuss The Blob on our Movie forum!
News & Features