The Bodyguard
(2016)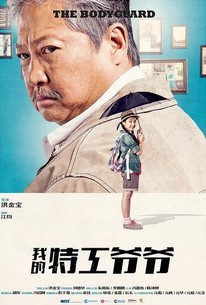 Movie Info
An elderly former bodyguard who is showing signs of early dementia befriends a young girl, and when she is threatened by the local crime lord, the bodyguard must try to remember his past skills in order to save her.
Critic Reviews for The Bodyguard
Audience Reviews for The Bodyguard
Sammo Hung's contributions to Hong Kong cinema, more specifically the martial arts/action genre, are insurmountable. He even helped create a new genre, the jiangshi film genre, which is a traditional kung fu movie merging with the vampire genre. While vampire films had existed in Hong Kong cinema prior to Sammo Hung, the jiangshi genre was inspired more by Chinese folklore as opposed to being inspired by the Western take on the vampire genre. So, again, this guy's contributions to the film industry in his home country is undeniable. And, sadly, I haven't watched as many Sammo Hung movies as I would like to have seen. I've seen a lot of films that he's helped choreograph, but he hasn't appeared in. I went and looked at some of his highlights on YouTube and this guy, at his peak, could really fucking go. He was agile, fast and crisp in his movements. Hell, I'd say that you should go out and seek some of his movies (advice that I'd gladly take myself), but if you can't or aren't able to find them, search for his highlights on YouTube. The one I watched, since there's several videos, was 13-minutes long. Anyway, the point that I'm trying to make is that I respect Sammo Hung's contributions to the business and his attempts to help those just starting out. But the reality of the situation is that this movie just isn't very good in the slightest. I'd even go as far as to say that this was a really bad movie. Which, to me, is a shame considering the fact that this is Sammo Hung's first directorial effort in close to 20 years. I don't wanna say the guy had gone into retirement from directing films (he was very active being the action director for plenty of films since then), but I have to wonder what it was about this movie's script where he felt he needed to take the reigns himself. I wonder whether or not he thought that he was the only one who could do this story justice. But, if I'm being honest, this movie pretty much fails on every account. Sammo Hung gives a surprisingly solid performance here, but the fact of the matter is that this is just a sappy melodrama disguised as a slight action film. The film is problematic because it simply does not know what it wants to be. It doesn't know if it wants to be an action movie, a melodrama or a sentimental comedy about Sammo Hung's friendship with this little girl. It tries to be all three and it jumps between all these genres in the clumsiest way possible. The tonal shifts are jarring and, realistically speaking, end up destroying the movie. It tries to be three movies at once and it fails at every one of those movies. If the film had been a straight up kung fu movie, it would have been better. If the film would have been a straight up drama, it would NOT have been better. If the film had been a straight up comedy, it might have been better. But that's only possible if you make three different, full-length films. It doesn't work when you try to cram it all into one movie. The story is, really, kind of awful. Hung's character suffers from dementia, yet that never actually plays a part in the film with the minor exception of when they use it to pull off the sentimental ending (which is awful). Anyway, Hung's character (whose name is Ding, yes, really) has been plagued with guilt after, during a hiking trip, his granddaughter went missing. He has isolated himself from his family as a result. Living in a small city near the Russian border, he befriends this girl who runs away from home whenever her father, an abusive gambler, goes on one of his binges. Ding lets her stay at her place for as long as she wants and they start a friendship. Cherry's father (the gambler) gets himself stuck in a situation where he's being hunted by both Russian and Chinese gangs, due to the fact that he stole a bag full of jewels. The leader of the Chinese gang then goes after Ding and Cherry. After Cherry's father is murdered, the leader of the gang then burns down his house believing that the daughter is still in there. This starts off Ding's journey to find Cherry, if she is alive, and to beat some sense into these gangs' collective asses. The problem is that the characters are so poorly developed. They're one-dimensional as all hell and they hope that, through the use of melodrama, you won't see that. You don't connect with anyone. Ding is the only character with any trace of an interesting backstory and even then they use that for melodramatic effect and nothing else, they don't use it to create an interesting character. I hate movies like this that just trade actual character development for just 100% maudlin. And I hate these movies because they just try to manipulate you, as if you were a bunch of idiots who couldn't think for yourself and see through the bullshit they're trying to peddle. Maybe this is what really gets over in Hong Kong, who knows, I just know that I fucking hate it. Let's talk about the action, which might be the only decent part about the movie. It's really not even that good. Sammo Hung, while clearly a very skilled martial artist back in his time, just can't go anymore and that is evident in how the action plays out. There's two sequences where Ding just stands in place with the only movement coming from his hands. This wouldn't be so much of a problem if Ding was just fighting ONE person, but no, he's fighting several dudes at one time in both scenes. The second extended fighting sequence with this 65-year-old man sees him dispatching of, at the very least, 10+ guys. And, again, there's very little movement, though there's a little more than the first scene. I wouldn't have much of an issue with this if, say, it was Donnie Yen who was cast as the lead. Donnie Yen, despite being 53 years old, can still put on some incredibly convincing fighting scenes. With Donnie, you can buy into the fact that he can dispatch of 10+ guys quite easily just by countering and using their own moves against them. Sammo Hung is 12 years older than Donnie and he can barely move, so it's not exactly believable that he can take on 10+, all armed with knives too, guys by himself. The action that is there, as I mentioned, is decent and the best part of the movie. That's not saying that the action itself is great, that's how bad the rest of the movie is. Another thing about the action is the fact that some scenes are quite gruesome and it just feels somewhat out of place with the rest of the movie. So that was weird, it's not that I was bothered by it being gruesome, but there was nothing else about the movie that was quite like it, so it feels out of place. What else can I talk about? The acting is ok, I wasn't blown away, by it. The little girl was annoying as shit, but it's not like she was a bad actress, it's just that I hated her character. I do not have much else to say about this movie. Giving this movie one star really is generous, but the action itself was decent, at best, even if you can't take it seriously. The rest of the movie, honestly, kind of sucks. It doesn't know what it wants to be, it's manipulative and it lacks any real personality. Just don't watch this movie expecting a home run, because this is a failure on nearly every level imaginable.
Jesse Ortega
Super Reviewer
The Bodyguard Quotes
There are no approved quotes yet for this movie.