The Bullet Vanishes
(2012)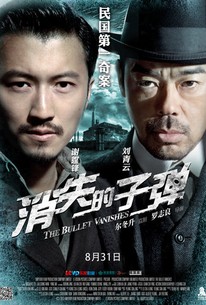 The Bullet Vanishes Photos
Movie Info
When a young girl at a bullet factory dies under mysterious circumstances, two detectives must investigate the reasons for her death -- and the strange occurrences that follow -- as they themselves become the target of the phantom killer.
News & Interviews for The Bullet Vanishes
Critic Reviews for The Bullet Vanishes
Audience Reviews for The Bullet Vanishes
This is another one of those very good good movies. I don't know why, but it just never really seems to take that next step to greatness. It almost does with its third act and all its revelations about weeding out police/government corruption, no matter what the cost, in order to ensure that more people are saved under a 'fairer and just' police chief. That stuff was actually really good, to me, but the murder mystery itself, while certainly intriguing, didn't really go to enough interesting places, nor was there really much mystery behind who actually committed these murders. And I think that's a problem in murder mysteries in general, it's just really hard to get me really that invested unless you really subvert the genre tropes or tell a great story. Gone Girl would fit both of those categories, so that's an example. I don't think this film can really be considered a subversive murder mystery, though this one isn't so much of an issue. I've watched many films that play into the established tropes of their particular genre that are still enjoyable, so that's not the problem. The story, to me, just isn't that great. It's good and it definitely keeps intrigued for its duration, but there's an extra element missing. The casting is real good though, Nicholas Tse and Sean Lau have real good chemistry. Sean Lau's performance really is the best part of the film in how understated he actually is. I've seen him in various movies and he's always, to me, been very good. So I can't really complain on that front. Like I said, the story reveals its real intentions in the third act and this is where the film is at its best. I don't wanna spoil anything, but it's not completely unpredictable considering how everything ended up playing out, but this is where the film really shines. I wish they had incorporated more of that in the film, because the third act, while really good, sort of feels like something out of a completely different movie. I'm probably complaining too much, but it is what it is. This is still quite an enjoyable movie, I just had some issues with the presentation of its story. I'd still recommend this if you have Amazon Prime, but it doesn't end up being anything special or memorable.
Jesse Ortega
Super Reviewer
½
The Bullet Vanishes is one crime mystery that Law Chi-Leung does right.
Sporting a 105 minute story, The Bullet Vanishes is filled with a couple clever detectives solving a series of murders. Sure, that may sound like every detective story out there, but watching the characters put the pieces together in this story is quite an amusement. Complete with a twist at the end, the story alone is worth the watch.
While the word bullet does appear in the title, there isn't a lot of action or excitement to go along with this picture; however, there are a few shootings to quench the taste for violence.
Ching Wan Lau is a solid detective and Nicholas Tse pulls one off as well; both of their characters work well together. Liu Kai Chi is one interesting character while Yang Mi and Yiyan Jiang are breadths of fresh air on screen.
All in all, The Bullet Vanishes comes together as a recommendable crime thriller.
½
The Bullet Vanishes caught my attention because of it interesting title and one my favorite actor, Nicholas Tse, was in it. The Bullet Vanishes is a stylish whodunit mystery film that is well acted with a smart plot to keep you engage throughout its run. The Bullet Vanishes is set in 1930s Shanghai, as two detectives, Song (Lau Ching Wan) and Guo (Nicholas Tse), investigate a series of mysterious shooting deaths in a bullet factory. This mystery film gets things right by keeping the audience guessing on who's behind the crime with character who might or not be involve in the crime. Another plus in the writing is that it delve into our main detectives developing their back stories and giving us an idea on how they work. You'll get the usual autopsies, hypotheses, and other investigating methods one would expect from these kind of films but also get to explore the psychology of a criminal. A theme the film focus on the plausibility of a "perfect crime" and how a criminal is made to good effect. The film plot is not without some notable flaws. Without giving anything away the plot this mystery film, it has one two many twists toward the end. The pacing is uneven at times and a under develop romance that goes nowhere. In spite of the film having great usage for it many characters some of them just don't add anything significant to the overall film. It's bares some resemblance to Guy Ritchie's 'Sherlock Holmes', but it is largely its own creation with notable differences. The Bullet Vanishes has a plot that contains an intriguing mystery that you will want to see towards the end that helps it overcome it flaws. The cast is top notch for this mystery film. Lau Ching-Wan brings an memorable and enjoyable performance that is reminiscent of his portrayal in Mad Detective (2007). Lau Ching-Wan just has a natural talent of playing detectives with usual methods very well. Nicholas Tse reigns supreme in the acting department. He's charismatic and has great chemistry with every actor he shares a scene with. Wouldn't be surprise if Nicholas Tse wins an award for his excellent performance here. The supporting cast is put to good use, though some of them go underused. Especially actress Mini Yang who appears to be eye candy and a underdeveloped love interest. It's a shame Yang didn't have a more developed character since her acting is pretty good. Director Law Chi Leung is a director I'm not well know with, but his vision for the film was perfect. The film is filled with beautiful sets, great costumes, rightful use of CGI to recreate Old Tiancheng, and maintains a good narrative structure. Law Chi Leung will pull you into the world he created. The Bullet Vanishes might appear to be China version of Sherlock Holmes to western audiences at fist glances, but it has an identity of its own. It contains an mystery you will want to see till the end and top notch cast filled with actors that are fun to watch on screen. The Bullet Vanishes is a film that is easily recommendable for any fans of good mystery and should a film you should see if you have not already had a chance to see it.
Caesar Mendez
Super Reviewer
The Bullet Vanishes Quotes
There are no approved quotes yet for this movie.