The Circle
(2017)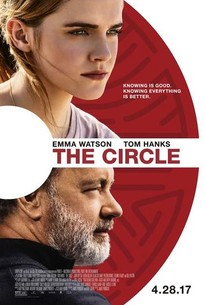 TOMATOMETER
AUDIENCE SCORE
Critic Consensus: The Circle assembles an impressive cast, but this digitally driven thriller spins aimlessly in its half-hearted exploration of timely themes.
Movie Info
The Circle is a gripping modern thriller starring Emma Watson ("Harry Potter"), Tom Hanks ("Sully") and John Boyega ("Star Wars: The Force Awakens"). When Mae (Emma Watson) is hired to work for the world's largest and most powerful tech & social media company, she sees it as an opportunity of a lifetime. As she rises through the ranks, she is encouraged by the company's founder, Eamon Bailey (Tom Hanks), to engage in a groundbreaking experiment that pushes the boundaries of privacy, ethics and ultimately her personal freedom. Her participation in the experiment, and every decision she makes begin to affect the lives and future of her friends, family and that of humanity.
News & Interviews for The Circle
Critic Reviews for The Circle
Audience Reviews for The Circle
½
Tom Hanks has been in some shitty films in the past few years, but this one, I believe, is his true nadir. He should really stop doing Dave Eggers adaptations. And even though Daniel Radcliffe has managed to forge a serious acting career post-Harry Potter, Emma Watson has yet to latch onto anything of real quality. The Circle is an aimless critique on social media and the surveillance state. Just when you think they've touched on something of substance to say about privacy or the ubiquity of technology, it is quickly glazed over for some new, boring plot development. The film concerns Watson as she has started her dream job at a Google/Facebook-like social media cult, the titular Circle. She's expected to participate in company events and keep a level of transparency in her private life like everyone else at the job does. Tom Hanks is the Steve Jobs/Mark Zuckerberg of the company and, of course, he is a nice guy running a successful company that just happens to be eroding civil liberties and manipulating the government. Now you would think that this is middling enough to at least be entertaining, so why does the movie suck so bad? I think it's mostly because the plot is so contrived. John Boyega's character simply exists to tell the audience what the conflict is, he never interacts with anyone besides Watson, and in the end he is the guy who resolves the problem. So many times, I asked myself "Why in the hell is Emma doing that?" with no real answer. Watson's inner struggle translates to her just doing things that don't make sense, like kayak at night during a storm and later subject herself to being on camera for every second of her life for months. Of course, there wouldn't be a plot if she didn't do these baffling things. There is absolutely no tension, the performances are painfully bland (especially from Ellar Coltrane), and its conclusion is not very clever. Wasted potential like this is something I've been seeing way too much of this year.
K Nife Churchkey
Super Reviewer
Despite the A-listers, The Circle tries deliver a relevant message for today's world, but miserably fails. The concern for internet privacy is an important issue, but the script is thin, and unconvincing.
Chrisanne Chin
Super Reviewer
There's a cast listing that'll make you stop and take notice ... and that's about all there is in this nearly dystopian, nearly sci-fi offering. Wouldn't you rather go make some peanut butter and jelly sandwiches instead? Yes, you would.
Kevin M. Williams
Super Reviewer
The Circle Quotes
There are no approved quotes yet for this movie.
Discussion Forum
Discuss The Circle on our Movie forum!