The Circle
(2017)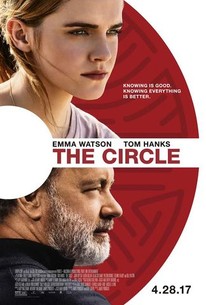 TOMATOMETER
AUDIENCE SCORE
Critic Consensus: The Circle assembles an impressive cast, but this digitally driven thriller spins aimlessly in its half-hearted exploration of timely themes.
Movie Info
The Circle is a gripping modern thriller starring Emma Watson ("Harry Potter"), Tom Hanks ("Sully") and John Boyega ("Star Wars: The Force Awakens"). When Mae (Emma Watson) is hired to work for the world's largest and most powerful tech & social media company, she sees it as an opportunity of a lifetime. As she rises through the ranks, she is encouraged by the company's founder, Eamon Bailey (Tom Hanks), to engage in a groundbreaking experiment that pushes the boundaries of privacy, ethics and ultimately her personal freedom. Her participation in the experiment, and every decision she makes begin to affect the lives and future of her friends, family and that of humanity.
News & Interviews for The Circle
Critic Reviews for The Circle
Audience Reviews for The Circle
Despite the A-listers, The Circle tries deliver a relevant message for today's world, but miserably fails. The concern for internet privacy is an important issue, but the script is thin, and unconvincing.
Chrisanne Chin
Super Reviewer
There's a cast listing that'll make you stop and take notice ... and that's about all there is in this nearly dystopian, nearly sci-fi offering. Wouldn't you rather go make some peanut butter and jelly sandwiches instead? Yes, you would.
Kevin M. Williams
Super Reviewer
½
In a year where 80% of cinema is either remakes or sequels, its hard to not be excited about the original properties that creep into theatres. Sadly, The Circle won't be the one that stands out this year. When the trailer for this film was released, the premise seemed to be very intriguing and made me wanted to make the trek to the theatre. Emma Watson, Tom Hanks, John Boyega, and even Boyhood's Ellar Coltrane make appearances here, and while they give their all, the film can't help but feel unexplored. Throughout the trailer, Emma Watson exclaims that her biggest fear is "unfulfilled potential," which is ironic, due to the fact that The Circle is one of the most frustrating films to come out so far this year for that very reason. Here is why this film is such a disappointment in my eyes. Right off the bat, this film faces the issue that we are already dangerously close to this future in terms of technology, so it's more of a warning than an intriguing premise. That being said, the premise of having someone land a new job at a tech company that is implanting cameras all across the globe seems cool, and knowing that it will also explore how that will affect the privacy of many people around the world just increases my attention tenfold. What the film fails to do is expand on its notions of technology. There are far too many moments where we find the core character in Mae (Emma Watson) figuring out what the issues throughout this company are. Never once did I feel any sense of tension, which is a tragedy, due to the fact that the issues brought into the forefront are so interesting. Don't get me wrong here, because I didn't walk out of this film disliking it. I admired the premise greatly, it's just that they didn't do enough with it. When certain secrets are revealed and the emotional core is cranked up to eleven, The Circle does find certain moments to shine for its audience. Every performance here is note-worthy as far as this film goes, which in turn makes for a very watchable piece of film. The mystery behind The Circle is truly what kept my interest, but it seems to be completely resolved without any big outbursts or any sort of loss. By the third act of this film, there is a pretty large incident that flips the film on its head, but it's very rapidly covered up. To be honest, there truly is only one emotionally powerful / tense moment throughout this entire film, but it could honestly come off as either laughable or too far-fetched to some. For myself, this event did nothing to serve the outcome of this film and The Circle truly has no definitive conclusion, which I found odd, considering the circumstances that are set-up throughout the third act. When you watch a film with eons of potential, only to be served with a mediocre delivery, it seems like a huge cop-out for viewers. In the end, there are bigger disappointments out there for sure. Star Wars was nearly ruined at one point, which could've collapsed an entire franchise, or The Hobbit films not being as beloved as The Lord Of The Rings was troublesome as well. That being said, it's worse when a singular/original film is released, showcasing a great (or at least intriguing) premise throughout its marketing campaign, only to just scratch the surface of what could've been explored. The Circle tries very hard to open the eyes of its audience, in order to show what we will be heading for in our near future, but there isn't nearly enough tension to carry this near two hour film. Overall, I quite enjoyed the idea of the film, but everything about the film itself felt like it was holding itself back from something bigger. Some people may find themselves transfixed, but that is very far from the word I would use to describe this film. In my opinion, I enjoyed The Circle just about as much as I disliked it. For that reason alone, I can't exactly recommend it.
The Circle Quotes
There are no approved quotes yet for this movie.
Discussion Forum
Discuss The Circle on our Movie forum!