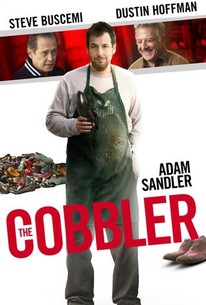 The Cobbler
2014, Comedy/Drama, 1h 39m
72 Reviews
5,000+ Ratings
What to know
critics consensus
The Cobbler represents a slight step up from Adam Sandler's recent comedies, but while its cloying sentiment proves a more palatable substitute for his usual crass humor, it still isn't terribly compelling. Read critic reviews
Where to watch
Rent/buy
Rent/buy
Rent/buy
Rate And Review
Movie Info
A frustrated shoemaker (Adam Sandler) finds a magical sewing machine that allows him to see the world in a new way by stepping into the lives of his customers.
News & Interviews for The Cobbler
Audience Reviews for The Cobbler
When I saw the first trailer for this film I was actually quite impressed. The concept looked visually appealing and seemed to deal with questions of morality in an intelligent way. Even some of the gags in the trailer gave me a little chuckle. Shortly after I stumbled upon the trailer, I found out that the film had been yanked from theaters, and given immediate VOD release in September of last year. This is nothing new in a spiking trend of Adam Sandler bombs and missteps, but unlike "The Interview" this film stayed buried. Read more at http://www.bluefairyblog.com/reviews/2015/8/2/the-cobbler

Better than the usual Adam Sandler movie, and I do have to give the guy props for trying to, at least, branch out with different movies the last couple of years. Granted, as far as I can tell, it was just this and Men, Women and Children. But at least he made an effort as opposed to making the same pieces of crap he's made for close to 20 years now. With that said, honestly, it's not like this film is really that good to begin with. I mean it's got a good concept, even though it plays more like 'modern' version of Quantum Leap, a show that I love, and this film simply cannot compare to in any way whatsoever. I just don't think that the film makes a good use of its concept. Essentially Max, a cobbler, can literally step into the shoes of his customers if he uses a stitcher to fix the shoes that has been in his family in generations. Seems interesting enough...for a short film, maybe not necessarily a full-length film. I just think the film is all over the place thematically and tonally. Parts of it are wish-fulfillment, parts of it are sentimental drama, parts of it are a father-son reconnecting and yet none of these elements come together to a coherent whole. There's also some weird racism in the film in that the there's two crimes, when Max first discovers this power, and both times, one was a dine and dash and the other was robbing someone of their shoes, and both times Max used shoes that belonged to black people. That left a really poor taste in my mouth, particularly when there's only two crimes committed and both are done by black people. Maybe I wouldn't have had so much of a problem with it if perhaps they dealt with how Max was negatively affecting the lives of people he pretended to be, but they never even come close to that, even though that seems like a natural set-up. if you think they'd actually go to a somewhat dramatically interesting route, then you would be wrong. Which makes these instances of Max using black men's shoes to commit petty crimes all the more absurd, ridiculous and pointless. Other than that one bit of racist stereotypes, I do think the film means well. It's just not all that smartly structured. As far as Adam Sandler's performance goes, he's not bad, but he's not extraordinarily good either. I'm just sort of indifferent to his performance in here. The supporting cast is solid, but the writing is just not good enough to make any of their performances truly effective. Like I said, the film is all over the place tonally and thematically. It doesn't really know what it wants to be, but it's somewhat well-made. I don't really have much else to say honestly. It's still a step above the usual Sandler fare, but it's not something that's worth watching either. It's watchable, at best, but not really worth it.

The Cobbler continues the long fall of Adam Sandler. Of his choosing. Sandler had the opportunity to follow in the footsteps of the like of Tom Hanks and Jim Carrey ( when he had his run of great movies), but continues to choose childlike movies and keeping his friends from their inevitable obscurity. The Cobbler is well cast. It has a few little known yet entertaining actors with the least interesting story I've seen in some time. There are also a couple of big actors who are getting up there in age. It's as confused a movie as you'll see. Flat, non-funny, and unentertaining about sums it up. Unless you're some sort of masochist or you just have to see every Adam Sandler movie, there is no need to watch The Cobbler.

Finally, Adam Sandler steps up in a film I enjoy again.. Typical Sander film though, yet I loved this one. Already re-watched it a couple times.
See Details