The Creation of the Humanoids
(1962)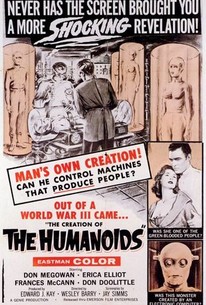 AUDIENCE SCORE
Critic Consensus: No consensus yet.
The Creation of the Humanoids Photos
Movie Info
In the wake of a nuclear war that wipes out 92 percent of the world's population, civilization rebuilds itself with the help of robots, which soon become sufficiently advanced to rival -- and then surpass -- the men and women that they are designed to serve. Of particular usefulness (and concern) are the robots series R-21 and above, designed specifically to mimick human form and communication -- the humanoid robots. Despite their distinctive appearance (no hair, blue-tinted skin), they intermingle freely with humans at work, and have been granted some very limited rights under the law. But a backlash has developed among the humans -- the robots are often routinely referred to disparagingly as "clickers," and some of the most militant opponents of the robots have organized The Order Of Flesh And Blood, a paramilitary vigilante group with its own intelligence, scientific, investigative, and surveillance services, all dedicated to limiting the presence, influence, and rights of the robots, in not eradicating them. One of their most active and ambitious members is Craigis (Don Megowan), a captain in the Order and also a top gerontologist in his professional life, who despises the humanoid robots for the threat he sees in their presence -- that with their physical and intellectual superiority, they force man to think less of himself, and to rely on the robots to do many of the tasks that man should do for himself. Craigis is more intelligent than a lot of his fellow Order members, who are little more than bully-boys throwing their weight around, but as such he also sees this struggle in more serious and dire terms than many of his colleagues. One night, while investigating a robot carrying a forged assignment card, he stumbles upon a series of events more ominous and astounding than any he could have anticipated -- a robot violates its First Law of behavior by murdering a man; and the robot committing the murder was designed to look and pass for human. Craigis feels he has stumbled onto something incredibly dangerous, but he is distracted from the implications of these events by news closer to home -- that his sister (Frances McCann) is now living in in an officially sanctioned raport with a "clicker." This sends him tearing off to her home ready to do violence. Craigis is still coping with his sister's choice of a partner, when he meets her friend Maxine (Erica Eliot), and the two discover a strange fascination with each other. As Craigis tries to sort out his feelings about this woman, and keep a perspective on everything he has discovered, he has no inkling of a revelations still to come, about the robots, and their plans, the reason behind them, or how close to home they already are.
Critic Reviews for The Creation of the Humanoids
All Critics (1) | Fresh (1) | Rotten (0)
An engrossing, thoughtful, oddball sci-fi film. Even if it is poorly acted and filmed it still has a great story delivers a vital message about bigotry.
Audience Reviews for The Creation of the Humanoids
For low budget sci-fi schlock this isn't half bad. Sort of a cross between Blade Runner and I, Robot with a little bit of Bicentennial Man thrown in for good measure.
Randy Tippy
Super Reviewer
The Creation of the Humanoids Quotes
There are no approved quotes yet for this movie.