The Foreigner
(2017)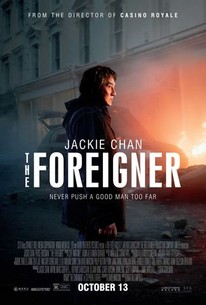 TOMATOMETER
AUDIENCE SCORE
Critic Consensus: The Foreigner adheres strictly to action thriller formula, but benefits from committed -- and out of character -- performances from its talented veteran stars.
Movie Info
The Foreigner, starring Jackie Chan and Pierce Brosnan, is a timely action thriller from the director of Casino Royale. The film tells the story of humble London businessman Quan (Chan), whose long-buried past erupts in a revenge-fueled vendetta when the only person left for him to love -- his teenage daughter -- is taken from him in a senseless act of politically-motivated terrorism. In his relentless search for the identity of the terrorists, Quan is forced into a cat-and-mouse conflict with a British government official (Brosnan), whose own past may hold clues to the identities of the elusive killers.
News & Interviews for The Foreigner
Critic Reviews for The Foreigner
Audience Reviews for The Foreigner
Though it was a very entertaining 2 hours there wasn't that much of a story.
Kameron Woodall
Super Reviewer
½
At the age of sixty-three and nearly seven years after any type of significant showing on the big screen I imagine Jackie Chan doesn't necessarily want to be starring in second rate scripts Liam Neeson passed on as someone called Quan Ngoc Minh. I imagine he'd like to be making more thought-provoking actioners or maybe even interesting character pieces, but that just doesn't seem to be in the cards for the poor guy. He seems to have tried his hand at making low-risk action/comedies and has done an abundance of voice over work, most recently in the subpar The LEGO Ninjago Movie, but the question has now become that of how does a man always known for his agility and stylistic fighting abilities age into a Hollywood environment based on franchises and brand recognition? Well, make Rush Hour 4 obviously. This is kind of the point though, as Chan has played in seemingly everything the industry could think to put him in, so it makes sense that now-as there is no shortage of aging stars that were once marquee names who are willing to try their hand at being action stars-that a true action star would join in on the fun. Unfortunately, The Foreigner isn't that much fun. As much as this feels like a last resort of sorts for Chan it is a double-edged sword for that of his co-star Pierce Brosnan. Brosnan would seemingly like to be a well-regarded leading man in more mature fare, but it is likely he sees no other options in maintaining his relevancy and so we will continue to get things such as leading roles like in The November Man (though I wonder if he could even pull off something like that only three years after the fact) and supporting roles such as this before having a late in life career renaissance that will leave his legacy as more than just the guy who once played James Bond...or maybe that arc will be saved for Daniel Craig. All of this is to say that both Chan and Brosnan as well as director Martin Campbell (The Mask of Zorro, Goldeneye, Casino Royale) have been put to better use in much better movies as The Foreigner feels like a much-delayed attempt to hop on the now sub-genre of older, unsuspecting guys kicking ass and taking names. The Foreigner is a film as generic as anything we've seen this year which is a shame considering it doesn't utilize its stars strongest asset to great effect. I like Jackie Chan, you can't help but to root for the guy and that is inevitable here as well despite the fact that every few minutes you might have to ask yourself where these characters are, where they're going, and/or what exactly they're doing and for what reason. It's that kind of movie though, one that by the time the credits roll you'll shrug it off and move on; no harm and no real foul. read the whole review at www.reviewsfromabed.com
Philip Price
Super Reviewer
½
Pretty much every late 50's to late 60's male actor is looking for their own "Taken". Ever since Liam Neeson brilliantly played the revenge-father in Taken, it sure seems like their been an uprising in older actor-action films. Jackie Chan gets his chance with that in The Foreigner, based on Stephen Leather's novel, The Chinaman. In many ways, this feels like an original action film, and we just don't get many of those anymore. Chan plays a father who loses his daughter in a bombing by Irish terrorists, and risks everything to exact revenge upon the perpetrators. Pierce Brosnan (in a reunion with Bond director Martin Campbell) plays a government official, who may or may not have intel regarding the "Authentic IRA" bombers. Both men are playing against-type characters and are easily the best part of The Foreigner. I think the main problem that plagues the film is the lack of focus. I was under the impression that this was mostly a revenge story starring Chan. However, the film is actually probably more so about English and Irish intelligence and their inner political drama with each other. There are good chunks of them where Chan seems to disappear to make room for drama between those intelligence agencies dramatic plot points. Not that all of that isn't interesting on it's own, but I think the balance doesn't seem to be there. I would have much preferred the film to be focused solely on Chan's quest for revenge. With that said, there are plenty of inventive action sequences and hand-to-hand combat that feels like only something Jackie Chan can pull off to its fullest potential. And the against type performances are worth the price of admission alone. 7.0/10
Thomas Drufke
Super Reviewer
The Foreigner Quotes
There are no approved quotes yet for this movie.
Discussion Forum
Discuss The Foreigner on our Movie forum!