The Heart of the World
(2001)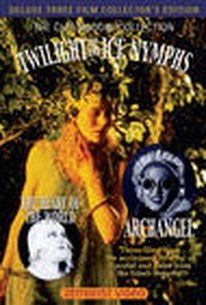 Movie Info
This six-minute short from Canadian filmmaker Guy Maddin is an ingenious pastiche of silent-film tropes in the service of what Maddin calls a "subliminal melodrama." Set in a dystopian future as imagined by a 1920s Soviet filmmaker, the movie is of a venerable genre -- a love story (in this case, a love triangle) played out against the backdrop of a catastrophic event. The hyperactive epic opens with an introduction to the characters: two brothers, Nikolai, a mortician, and Osip, an actor in a Passion Play, both of whom are in love with Anna, a state scientist. Anna's conundrum is compounded by her latest scientific discovery: the Earth's heart is failing, and humanity has one day left. Chaos ensues as people prepare for the apocalypse, and as the brothers compete for Anna's love. However, a third man appears, Akmatov, an industrialist. As riots and orgies break out, Anna falls under the spell of the capitalist, oblivious to the world's tumult. At the last minute, she comes to her senses and frees herself from the industrialist's grasp. With the heart of the world on the brink of failure, Anna devises a radical remedy that leads to the Earth's rescue, and a rousing climax. This highly praised short premiered at the 2000 Toronto International Film Festival as part of its "Preludes" series of shorts played before feature films. The movie nabbed a few mentions in several year-end best-of lists, and was given a Best Experimental Film award by the National Society of Film Critics. ~ Elbert Ventura, Rovi
Critic Reviews for The Heart of the World
Audience Reviews for The Heart of the World
½
"State scientist" Anna studies "the heart of the world" and learns it is in desperate shape, all while trying to chose between suitors: brothers Osip (a mortician) and Nicolai (an actor playing Christ in a passion play), along with "dark horse" industrialist Akmatov. Director Guy Maddin pulls out all the stops in this dreamlike, hyperkinetic 6 minute tribute to silent films (especially Soviet Constructivist films such as AELITA, QUEEN OF MARS).
The Heart of the World Quotes
There are no approved quotes yet for this movie.