The Lovers And The Despot
(2016)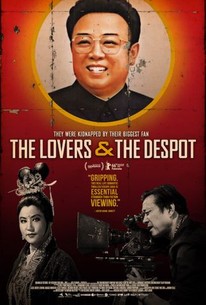 TOMATOMETER
AUDIENCE SCORE
Critic Consensus: The Lovers and the Despot offers a compelling -- albeit by no means comprehensive -- look at one of the more bizarrely stranger-than-fiction episodes in cinematic history.
The Lovers And The Despot Videos
The Lovers And The Despot Photos
Movie Info
THE LOVERS AND THE DESPOT tells the story of young, ambitious South Korean filmmaker Shin Sang-ok and actress Choi Eun-hee, who met and fell in love in 1950s post-war Korea. In the 70s, after reaching the top of Korean society following a string of successful films, Choi was kidnapped in Hong Kong by North Korean agents and taken to meet Kim Jong-il. While searching for Choi, Shin also was kidnapped, and following five years of imprisonment, the couple was reunited by the movie-obsessed Kim, who declared them his personal filmmakers. Choi and Shin planned their escape, but not before producing 17 feature films for the dictator and gaining his trust in the process.
News & Interviews for The Lovers And The Despot
Critic Reviews for The Lovers And The Despot
Audience Reviews for The Lovers And The Despot
½
Some of the greatest stories are so bizarre and unpredictable that they could only come from real life, and documentaries are a terrific showcase for the strange-but-true realities of our world that have escaped notice. The Lovers and the Despot is a film that leaves you wanting more just because its own true-life tale is so engrossing and deserving of further examination. North Korean dictator Kim Jong-il was so frustrated with his country's film industry that he kidnapped his favorite South Korean filmmaking husband and wife team, actress Choi Eun-hee and director Shin Sang-ok. The couple made over 17 films for the dictator and had to earn his trust before they could plot an escape. This is a fascinating story about the power and entitlement others feel of art, with Kim Jong-il desperate for world recognition through the cinematic arts. He gave the couple a blank check and unrivaled artistic freedom, enough that some in South Korea suspect that Shin defected to the North rather than having been kidnapped. There are astonishing gets for this doc, namely Kim Jong-il's actual audio conversations secretly recorded by Choi Eun-hee. When the couple defected to an American embassy, the U.S. government had never heard the dictator's voice before, and here it was thanks to an actress. It feels like there's so much more to this story that's missing, either from the interview subjects' reticence to share too much or the filmmakers reluctance to embrace more of the Cold War paranoia thriller trappings the story can veer into. There are some insights into the despot but they mostly fall into daddy issues. The omnipresent threat of the dictator is best visually showcased during the funeral marches for his father and then eventually Kim Jong-il himself. The masses are in a state of hysterical grief that crosses into parody, until you realize that these people are adopting a false front to protect themselves and their families just like Choi. Those not "properly grieving" could be punished, and so the miles of people wailing and hyperventilating becomes a chilling symbol of the hold one man has on the country even after death. The Lovers and the Despot is a fascinating story of artists held hostage by their biggest fan, who happened to be a ruthless dictator. It's naturally compelling but you wish that someone else might better realize its potential on a second crack. Nate's Grade: B
Nate Zoebl
Super Reviewer
PYONGYANGST - My Review of THE LOVERS AND THE DESPOT (3 Stars) Evoking more questions than answers, THE LOVERS AND THE DESPOT, a documentary by filmmakers Ross Adam and Robert Cannan details the stranger than fiction account of a prominent South Korean film director and his actress ex-wife who were kidnapped by North Korea during Kim Jong Il's reign and were forced to make over 17 movies for him. It's a story straight out of a John le Carré spy thriller complete with secret tape recordings, imprisonment, abductions, and banal conversations laced with ominous subtext. Like most reports from the "Hermit Kingdom", the information, while often horrific and shocking, seems almost impossible to substantiate. Over the years, I've become obsessed with all things North Korean. My heart goes out to its citizens who live as virtual prisoners and slaves under the most oppressive regime in the world. I search the internet for any tidbits of information, leaked videos or truly candid photos, hoping to get a better understanding of the realities as opposed to the propaganda. Sometimes these searches go on for hours and hours and I end up in what I like to call a DPRK-Hole. This is all to say that I couldn't wait to see this documentary. The good news is that this is pretty riveting stuff. Shin Sang-ok, a once heralded but now down on his luck filmmaker, found himself at an impasse. (Isn't that how every great hero's journey begins?) He wasn't able to get his films financed as easily in South Korea anymore. In his glory days, his films would star his beautiful wife, Choi Eun-hee, but their success and their marriage evaporated. Unbeknownst to them, a certain tyrant and supposed film buff had his eye on them. In a feeble attempt to boost its film industry, he had them kidnapped separately and after Shin spent 5 years in a prison camp, he was reunited with his ex-wife and soon had an audience with Kim Jong Il. Choi, who is still alive, recounts how she secretly tape recorded their conversations with the "Dear Leader". These recordings provide an unprecedented glimpse into Kim's world. He sounds just so damn jovial and opinionated. At one point he decries his country's films as filled with too many ideological similarities and way too much crying. He strived for real artistry and thought this couple could make North Korea then envy of the film world. Giving the couple free reign (as long as they don't criticize the regime, that is), Kim became a film studio boss and his charges had what every filmmaker on the planet craves, a greenlight for every project and the best possible resources at their disposal. Of course it came with a price...absolutely no freedom. Constantly watched over, they had to perform more behind the camera than in front of one. Shin's conversations with Kim in particular are filled with such reverence for the leader, yet you just know there's a certain amount of coercion happening. At one point, Kim says to him, "Please don't betray me", which is quite possibly the scariest and saddest thing you could ever hear from such a murderous thug. Being so close to someone like him definitely required a tightrope walk, and Shin and Choi seemed masterful at it. One defector once said, "Indeed, our General is the Sun! If you get too close to him, you burn to death, but if you go too far from him, you freeze to death." Such was their conundrum, and truly, the conundrum of all of North Korea's citizenry. The bad news is that there's so much in this film that cannot truly be verified and there seem to be many missing pieces. South Koreans suspected Shin of actually defecting to North Korea instead of being kidnapped. I don't know about that. Seems like a terrible career move to me! Regardless, we don't really know what happened to Shin in the prison camps and have to take Choi at her word as to what occurred. Furthermore, the filmmakers use a lot of recreations to tell their story, but they're never identified as such. Granted, the recreations are exciting and employ a grainy, Super-8 look to give it authentic period detail, but it's still tough to discern what's true footage and what is not. Also, we see many clips from their films, but are rarely given the context, and in some cases, the scenes are oddly used to illustrate real occurrences. We also don't learn anything about Shin and Choi's film aesthetic or what drove them as storytellers. Sure, the thriller aspects of their imprisonment and daring escape overpower anything else, but I would have preferred to know more about their artistry. It's strange how some of the most despicable dictators had artistic aspirations. Hitler was an art student and Kim Jong Il wanted his own versions of TITANIC and GODZILLA. If only they had fulfilled that part of their lives, maybe we wouldn't experience so much needless suffering. THE LOVERS AND THE DESPOT doesn't go that deep. It's an exciting yarn, but only skin deep.
Glenn Gaylord
Super Reviewer
The Lovers And The Despot Quotes
There are no approved quotes yet for this movie.