The Mummy an' the Armadillo
(2004)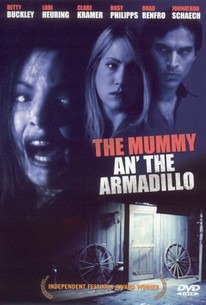 AUDIENCE SCORE
Critic Consensus: No consensus yet.
Movie Info
Unexpected revelations lead to horrifying consequences in this independent psychological thriller. Sarah (Clare Kramer) is a traveler who is driving down Route 66 one night when she stops at a diner to wait out a storm. The diner, which once was also home to a museum of the bizarre, has fallen into neglect and disrepair, and the only people there besides Sarah are members of the strange family who run the place. As Sarah's own deeply buried secrets face off against the sometimes dangerous eccentricities of her hosts, everyone is forced to re-examine their pasts, bringing the night to a terrible and unexpected climax with the rising of the sun. The Mummy an' the Armadillo co-stars Betty Buckley, Brad Renfro, Johnathon Schaech, and Busy Philipps.
Critic Reviews for The Mummy an' the Armadillo
Audience Reviews for The Mummy an' the Armadillo
It all came down to the end, which i found deeply moving and sad. But an hour and a half in a small room with people just talking?
Edward Boxler
Super Reviewer
½
This movie had 3 good minutes the credits. Its put out by Sandstorm Films, and I can only hope their other movies are much better then this. This is just a plain boring film, Bar in the desert girl shows up, gets in the middle of something that she is looking for. Only thing I can say is when someone unties you and says go, don't wait around and pickup chairs that got tipped over in the tussle. Remind me never to pick up a movie I never heard of before. Its better then one star but not much, only in my collection as it was a $2 movie at a pawn shop.
Bruce Bruce
Super Reviewer
½
Some (most) plays just aren't meant to be movies. Actually, the play seems like it was probably shitty in the first place. Shitty plays should never become movies. Especially depressing is Brad Renfro's role as a mentally retarded inbred, the kind of character you take on when you're strung out and need money for a hit or something. I feel so bad for him.
Drew Smith
Super Reviewer
The Mummy an' the Armadillo Quotes
There are no approved quotes yet for this movie.