The Pact II
(2014)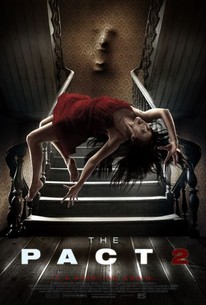 Movie Info
Only a few weeks after Annie Barlow exterminated the plague that was the Judas Killer, we meet June Abbott, a woman whose carefully constructed life in Los Angeles is beginning to unravel due to lucid nightmares so awful they disturb her waking life. When Special Agent Terrence Ballard, the FBI agent assigned to wrap up the case of the newly deceased Judas Killer, shows up at June's door, he brings with him some terrifying news - there is a Judas copycat killer on the loose in her neighborhood! In the course of his investigation, Ballard shows June a picture of the copycat killer's victim, and she is stunned to see that it's the same woman she saw brutally murdered in her nightmares. A series of hauntings begin to torment June, growing in frequency and ferocity over time. Now, not only does she see murder victims, but her dreams put herself in the role of the murderer. June fears that the spirit of the Judas Killer is the architect of some greater plan in which she must now play a part. June struggles to maintain her grip on sanity as she plunges into her own investigation of these events. No matter the result, the truth will be horrifying; either there is true evil inside of her, or someone, or something, is determined to destroy her...(C) IFC Midnight
News & Interviews for The Pact II
Critic Reviews for The Pact II
Audience Reviews for The Pact II
First things first, why does this sequel exist? Shitty way to start a review, but it's worth asking. I mean I thought the first movie was actually fairly decent and everything, but it's not like the movie set the world on fire, at least in my opinion. The movie cost $400,000 to make and it earned slightly over $7 million at the box office. Then again this is according to Wikipedia, which isn't the most reliable of sources. I just find it difficult to believe that the first movie made that much money, at least in comparison to its budget. But let's say that the movie did make that, and it isn't taking into consideration DVD sales VOD, that's not even necessarily reason enough to commission a sequel. This movie is a perfect example of that. While the original film received a somewhat positive critical reception, it wasn't overwhelming to the point where I felt that horror geeks felt they had to watch this. This is the type of movie that someone watches just because it's there. Particularly for horror geeks, I can't tell you how many horror movies I've seen just because they're available on Netflix or Amazon. Not even because I actually want to watch them. And I do think that The Pact had some of that. I don't wanna say it was all that, because that would be ignorant, but there's just nothing about the original flick that really inspires excitement to actually sit down and watch it. Which is why I was a little surprise to see a sequel. A sequel that, sadly, isn't any good whatsoever. That's why I was wondering why there was a need for one. I may have still asked why we needed a sequel if it ended up being good, but I wouldn't harp on it as much as I'm doing now. The film does a shit job at justifying its own existence to be honest, which is that a successful sequel must do in order to get audiences to buy into whatever story they want to tell. This movie justifies its own existence by saying 'just because' and that's it. There's very little in the way of substance in this movie. There's a copycat killer going around and, obviously, copying the MO of the Judas Killer's murders. The movie is put together in such a way that you know who the murderer is without any real sort of suspense. There's only two people it COULD be and one of those is a very obvious red herring, particularly if you look at this person's behavior throughout the entire movie. Part of the appeal of these movies, those where you don't know who the killer is, is the mystery behind who it actually is. Whether you do as it was done in Saw, where the killer was seen in flashbacks, or whether you have multiple people, the point is that you're intrigued enough by the story and how its mystery is put together to keep watching. But when you have only two real suspects and one of them is so clearly a red herring, then that makes it a little difficult to get into. Another thing that makes a little difficult to get into the movie is how unlikable June, the protagonist, is. Camilla Luddington was solid enough, but her character was honestly kind of a dick. And the character had an interesting enough backstory that they could have actually used, but they didn't and instead had her be an asshole to almost everybody she meets in the movie. The story is also somewhat convoluted. I got everything, but it wasn't exactly well-written or interesting for that matter. Also, for a horror movie, this movie is lacking a lot of the horror. There's some jump scares, obviously, but I've made my feelings on jump scares known forever now. They're a cheap way to scare someone. It's not actually scary, all it does is startle you. But they're, thankfully, not as prevalent here as in others. Sadly, however, the movie doesn't add other more atmospheric moments to supplement the jump scares, so the movie just ends up feeling completely barren. It's not the worst movie I've ever seen, but this was just no good at all. It gets one-star simply because I'm being kinder than I probably should. It's a bad movie and I wouldn't recommend it whatsoever.
Jesse Ortega
Super Reviewer
The Pact II Quotes
There are no approved quotes yet for this movie.
Discussion Forum
Discuss The Pact II on our Movie forum!