The Slime People
(1962)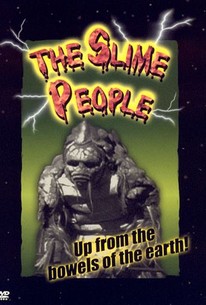 AUDIENCE SCORE
Critic Consensus: No consensus yet.
Movie Info
Tom Gregory (Robert Hutton), a Los Angeles-based sports reporter, is flying into L.A. and lands his private plane after a rough descent through some kind of opaque midair disturbance, only to find the airport deserted. He meets Professor Galvin (Robert Burton) and his two daughters, Bonnie (Judee Morton) and Lisa (Susan Hart), who tell him that the city has been overrun by huge, hulking slime-covered subterraneans called Slime People, who appeared out of the sewers and other underground water concentrations. Appearing out of a strange thick fog apparently generated by a device of their own, they've killed hundreds, possibly thousands, panicked the population, fought the army to a standstill, and have now cut off the city with a wall of solidified fog. Gregory doesn't believe them completely, despite the presence of slaughtered corpses on the highways and back roads, until he gets to the television station where he works and screens the news footage. The quartet also makes contact with a young marine, Calvin Johnson (William Boyce), who was cut off from his unit and left for dead by the creatures. They manage to elude the Slime People and try to work out a plan for survival, making contact along the way with Norman Talliver (Les Tremayne), an eccentric writer, who is soon dispatched by the creatures. They discover the Slime People are impervious to harm by bullets or other convention weapons, their skin sealing up any wound instantly, but they can be killed by their own hollow-pointed spears, which don't allow wounds to close. That helps in fighting them off one-on-one, and the professor's reasoning that salt would be effective against slug-like creatures gives them a second weapon against the Slime People. But clearing them all out and freeing the city requires an assault against the creatures' own stronghold, which becomes even more essential when Bonnie is taken prisoner. Gregory and Cal manage to keep the Slime People busy long enough for the professor to destroy their fog-generating device. Overwhelmed by fresh air and sunlight, the Slime People start to collapse dead in their tracks, and the army is soon back in charge, doing what amounts to a literal mopping up operation.
Critic Reviews for The Slime People
Audience Reviews for The Slime People
Slime people from underground attempted to take over the world by lowering the temperature and killing innocent humans, the survivors must band together to stop them. The slime people look like people with scabs. If you think the plot is bad, try the acting.
Sylvester Kuo
Super Reviewer
The Slime People Quotes
There are no approved quotes yet for this movie.