A Touch of Class
(1973)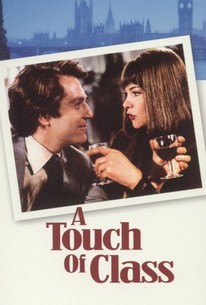 Movie Info
In this beautifully-constructed comedy of errors, a married insurance executive can't seem to avoid bumping into a divorced fashion designer wherever he goes. Finally bowing to the inevitable, the two fall in love. He suggests a romantic rendezvous in Spain, but nothing, absolutely nothing, goes as planned.
Rating:
PG
Genre:
,
Directed By:
Written By:
In Theaters:
On DVD:
Runtime:
Studio:
Media Home Entertainment
Critic Reviews for A Touch of Class
Audience Reviews for A Touch of Class
½
One of the few comedies to be Oscar-nominated in the 1970s, this British film about adulterous affair benefits from the strong chemistry between George Segal and Glenda Jackson, who won a second Best Actress for her part.
Lee Mayo
½
A funny bit of romping between George Segal and Glenda Jackson. It makes a bit too much light of adultery but ultimately we can forgive it because of its charm.
John Ballantine
Super Reviewer
Oh what a web we weave when we attempt to decieve! Amusing tale of a divorced woman and unhappily married man who by chance need each other. Roger Ebert wrote: "A sharp-edged, often very funny dissection of a love affair between two possibly incompatible people. But then it gets serious with itself and ends on a note that doesn't satisfy us. Our hopes have been raised for these two people; we want them to be happy with each other; when they separate it doesn't seem right." A Touch of Class is a 1973 British romantic comedy film which tells the story of a couple having an affair, who find themselves falling in love. SEE the entire film here: http://www.youtube.com/watch?NR=1&v=Heceq0z6YIM&feature=endscreen [img]http://25.media.tumblr.com/tumblr_mbizlfessA1qes1rgo1_500.jpg[/img] Glenda Jackson and George Segal (see-gal) I saw this film first run in 1973 and quite frankly, it didn't make much of an impression on me. Despite Roger Ebert's glowing 100% rating, for a youth like I was this was pretty lame. Still, its for mature audiences in many ways. [img]http://static.rogerebert.com/uploads/movie/movie_poster/a-touch-of-class-1973/large_6z0JMghU8PDa3d0r8IbjRCffTW0.jpg[/img] REVIEWS: 80% A Touch of Class is put together rather strangely. It starts out as a sex comedy (a very funny one) and turns into a drama somewhere along the line. ... 70% This is the 2nd older movie I watched from the recommendations of a work colleague- I told him that I liked The Graduate with the young Dustin Hoffman... More [img]http://t2.gstatic.com/images?q=tbn:ANd9GcTxv237X9mVKbPmu_KONlLTnDbKLI-TImJcz6x2u_QKJ5rB5FVN[/img] Glenda Jackson READ: Roger Ebert's complete review of 1973 about the film: http://www.rogerebert.com/reviews/a-touch-of-class-1973 NOTES and Trivia: 1 The lead role of Steve was originally offered to Cary Grant, with a promise by Frank to rewrite the script to play up the age difference between Steve and Vicky. However, Grant opted to remain in retirement from filmmaking, and he turned the role down. He did remain connected to the film, however, as it was produced by Fabergé's Brut Productions, and Grant was on the board of directors for Fabergé. CAST George Segal - Steven 'Steve' Blackburn Glenda Jackson - Vicki Allessio Hildegarde Neil - Gloria Blackburn Paul Sorvino - Walter Menkes K Callan - Patty Menkes Cec Linder - Wendell Thompson Michael Elwyn - Cecil Mary Barclay - Martha Thompson Nadim Sawalha - Night Hotel Manager Directed by Melvin Frank Produced by Melvin Frank Written by Melvin Frank Jack Rose Music by John Cameron Cinematography Austin Dempster Release date(s) June 20, 1973 Running time 106 min. 1 Awards and 4 nominations The film won the Academy Award for Best Actress (Glenda Jackson) and was nominated for Best Music, Original Dramatic Score, Best Music, Song (for George Barrie and Sammy Cahn for "All That Love Went to Waste"), Best Picture and Best Writing, Story and Screenplay Based on Factual Material or Material Not Previously Published or Produced. Both Segal and Jackson won the Golden Globe Awards for Best Actor and Best Actress in a Musical or Comedy. [img]http://www.movieposter.com/posters/archive/main/15/A70-7628[/img]
monsieur rick
A Touch of Class Quotes
There are no approved quotes yet for this movie.
Discussion Forum
Discuss A Touch of Class on our Movie forum!