Towards Darkness
(2007)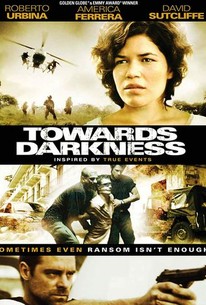 Movie Info
First-time director/screenwriter Antonio Negret details the frightening trend of kidnapping in Columbia with this tense tale of a young photographer who is abducted and held for ransom as his desperate parents scramble to raise the money that could save their child's life. Jose Gutierrez (Roberto Urbina) is a Columbian photographer in his early twenties who had come to America in order to pursue an education. Upon returning to his homeland, Jose is greeted by his good friends Jaime (Andres Toro), Pedro (Roberto Cano), and Luiza (America Ferrera). In the following days, Luiza attempts to show Jose just how much beauty Columbia truly has to offer. Despite the undeniable beauty of the land, however, Columbia holds a hidden danger that many fail to see until it's too late. Unfortunately for Jose, the night he realizes his love for Luiza and his homeland is the very same night that vicious kidnapping ringleader Manuel (Carlos Valencia) decides to strike. Now, realizing that their son's fate relies solely on the speed with which the ransom can be delivered, Jose's parents, Marta (Alejandra Borrero) and Carlos (Tony Plana), hire an American "kidnap and ransom" company led by the experienced John (William Atherton) and his partners Victor (Cameron Daddo) and Charlie (David Sutcliffe) to negotiate with the quick-tempered Manuel. When Marta and Carlos' insurance company denies the claim and John attempts to reason with the increasingly erratic kidnapper, Victor begins to fear that time is running out and rounds up a team of special-ops soldiers to search for Jose by helicopter. With only 90 minutes to go before the deadline is up and Jose is killed, the race is on to either deliver the ransom or confront the kidnappers with force and firepower.
Critic Reviews for Towards Darkness
Audience Reviews for Towards Darkness
There are no featured audience reviews yet. Click the link below to see what others say about Towards Darkness!
Towards Darkness Quotes
There are no approved quotes yet for this movie.