Tower Block
(2012)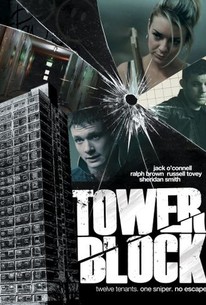 Movie Info
When Jimmy is brutally murdered by two hooded figures, Becky, Kurtis, Neville and the other residents of the Serenity House tower block are witnesses to the killing but, fearing retribution, are too scared to give detectives any information and the police investigation is going nowhere. One year later, someone has decided to take justice into their own hands. Picked off one by one, the tenants of Serenity House are under threat from a mystery sniper who has set deadly traps throughout the building. Unsure of why they have been targeted, the group undertake daring attempts to escape the building.
Rating:
NR
Genre:
Directed By:
Written By:
In Theaters:
On DVD:
Runtime:
Studio:
Shout! Factory
Critic Reviews for Tower Block
Audience Reviews for Tower Block
½
A decent premise is let down by a terrible script, dour colour scheme and some shockingly bad acting (even the usually fantastic Sheridan Smith is a little clunky). Think Attack The Block without the humour, pathos, technical skill and well chosen soundtrack.
Daniel Parsons
Super Reviewer
½
A decent very low budget UK film, featuring a few well known faces to UK TV audiences. The story is very basic with a group of residents held captive in a Tower block by a sniper. It has a few neat touches and surprises but is rather too predictable and some of the acting isn't great. Catch it on TV if you fancy a change from the normal run of the mill stuff.
½
The biggest influence on the current crop of low budget film-makers, particularly those from Britain and France, seems to be John Carpenter. This should be a positive but what few of them realize is that it takes more than a synth score and a few bad-ass characters to emulate the thrills of his movies. "Tower Block" is a riff on "Assault on Precinct 13" but where Carpenter's film had a police station about to be shut down which found itself under siege from an L.A gang, here it's a London tower block which is on the verge of being demolished. The last remaining residents, conveniently for the plot, are those residing on the top floor. The film kicks off with a teenage boy beaten to death by two thugs in the hallway of the top floor. Smith tries to help but receives a beating for her troubles and when the police ask for witnesses she, along with the other residents, deny any knowledge to keep themselves safe. We then cut to three months later and the residents wake to find a sniper has them pinned down from an adjacent building. From here the limits of credibility are stretched. Somehow the sniper has found the time, in just a few hours, to rig the building with booby traps and, of course, knock out cell-phone coverage. The tenants come up with various plans to escape their predicament but never think of the more obvious ideas like writing a message on a bedsheet and hanging it from a window. They consistently talk about how nobody will ever find them as though they were on a remote island in the Pacific rather than in the middle of the largest city in Europe. Along the way we get several twists and turns resulting in an awkwardly handled final reveal of the sniper's identity. Like most British films, the movie's strongest point is it's performances. O'Connell is particularly enjoyable as a chav version of Precinct 13's Napoleon Wilson. The central idea had potential but it seems co-directors Nunn and Thompson lack the ingenuity to pull it off. If Carpenter's film is a smooth ride in an elevator, this is a tough slog up the stairs. Take the lift.
The Movie Waffler
Super Reviewer
Tower Block Quotes
There are no approved quotes yet for this movie.