Warriors From the Magic Mountain (Zu Mountain: New Legend of the Zu Mountain Swordsmen) (Xin shu shan jian ke)
(1983)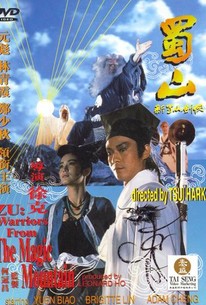 Warriors From the Magic Mountain (Zu Mountain: New Legend of the Zu Mountain Swordsmen) (Xin shu shan jian ke) Videos
Warriors From the Magic Mountain (Zu Mountain: New Legend of the Zu Mountain Swordsmen) (Xin shu shan jian ke) Photos
Movie Info
Set in 5th century China, centers on Ti Ming-chi (Yuen Biao) a young innocent from the West Zu army who wandered away from the battlefield and into a magical underworld filled with demons and murderous swordsmen. When his life is saved by the noble warrior Ting Yin (Adam Cheng Siu-chau), Ti joins forces with his band of fighters -- including a Buddhism monk named Abbot Hsiao Yu (Damian Lau Chung-yan), his klutzy underling Yi Chen (Mang Hoi) and a fearsome old wizard named Long Brows (Sammo Hung) -- in their quest to save the world from the terror of the Blood Demon. In spite of Long Brows' powers the Demon attacks and poisons Abbot Hsiao. Ting and company take the injured monk to the enigmatic Countess of Jade Pond (Brigitte Lin Hsia) hoping that her skills can cure him. Though she manages to cure Hsiao, the demon soon possesses Ting. The combined power of Ting and the demon are too great; the Countess can only surround her castle with a solid block of ice and wait while Ti, Yi and one of the countess's guards (Moon Lee Choi-fung) ventures to the top of Blade Peak to find the legendary Twin Swords. ~ Jonathan Crow, Rovi
Critic Reviews for Warriors From the Magic Mountain (Zu Mountain: New Legend of the Zu Mountain Swordsmen) (Xin shu shan jian ke)
All Critics (7) | Fresh (6) | Rotten (1) | DVD (2)
The narrative moves at such break-neck speed and hits you with such a rapid succession of gags that you're soon too dizzy to fuss over the details.
This 1983 fantasy kung fu classic is pure visual flash and thrill, making up for in 'eye candy' what it lacks in a story

Greg's Previews at Yahoo! Movies
Audience Reviews for Warriors From the Magic Mountain (Zu Mountain: New Legend of the Zu Mountain Swordsmen) (Xin shu shan jian ke)
Occasionally juxtaposed to "Star Wars" (1977) these kindred spirits of camp art share not only thematic elements, some of the same technical wizards, and a shared nostalgia between contemporary critics and audiences alike but also some of the same weaknesses. Co-written by Szeto Cheuk-hon, who collaborated on screenplays for three of director Tsui Hark's previous films, "Zu: The Warriors from the Magic Mountain" is likable based on the strength of its merits in sight and sound, but storytelling isn't one of the film's virtues. Like "Star Wars" this flying swordsman fantasy rarely ever stops to the point it's difficult to recall a moment where the narrative succeeds in pacifying Tsui's funhouse approach to filmmaking. This is no more evident than when the aforementioned warriors from the magic mountain arrive at a cryptic queen's fortress in the clouds and spend the next twelve minutes soaring through the air jousting with rays of energy from their palms in an attempt to appeal to the speechless ruler for her help. Once you look past all the smoke and mirrors its obvious why this sequence was tailored in this fashion: "Zu" would have viewed a grounded dialogue-driven exchange as some kind of cardinal sin for this brand of ADHD storytelling even though this is what the film really needs -- breaks. The atmosphere created by Tsui's marvelously colorful vision and recreated through Bill Wong's moody photography is accompanied by Gwan Sing-yau and Tang Siu-lam's pragmatic score and accented by the tutelage of conscripted Western technicians whose collective resume includes not only the special effects for George Lucas's 1977 science-fiction phenomenon (supposedly Tsui's original inspiration) but "Star Trek: The Motion Picture," "Tron," "Battlestar Galactica," and "Bladerunner" as well. Though Tsui was given an unprecedented HK $30 million budget by Golden Harvest Studios to turn his dream into a reality the special effects -- presumably where the lion's share of the money went -- have a cost-cutting charm that still has yet to wear off.
Adam Laidig
½
Martial arts fantasy adventure from Hong Kong director Tsui Hark. Quite ground-breaking and influencial back in its day and was the inspiration for John Carpenter's "Big Trouble in Little China". This film really wasn't my cup of tea though. The special effects are quite dated badly and the wires used to elevate the characters during the action are visibly distracting. The art design and sets are quite striking though. The film has a very fast pace and it was a real challenge keeping up with the action and reading the subtitles at the same time, something I don't usually struggle with. At the end of it all it was too tame and fantastical for my taste.
½
What the fuck was this movie? Excellent special effects, but the story just isn't there, and that leaves the viewer confused about the events. The opening promises a better film then what Tsui Hark delivers, and while I don't expect everything to be comprehensible, this one had me lost as soon as he entered the magic mountain.
Jordan Towles
Warriors From the Magic Mountain (Zu Mountain: New Legend of the Zu Mountain Swordsmen) (Xin shu shan jian ke) Quotes
There are no approved quotes yet for this movie.
Discussion Forum
Discuss Warriors From the Magic Mountain (Zu Mountain: New Legend of the Zu Mountain Swordsmen) (Xin shu shan jian ke) on our Movie forum!