We Don't Live Here Anymore
(2004)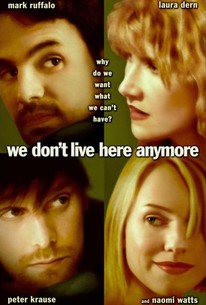 TOMATOMETER
AUDIENCE SCORE
Critic Consensus: We Don't Live Here Anymore is often overly moody and grim, but it's made watchable by the strong performances for its four principal actors.
We Don't Live Here Anymore Photos
Movie Info
Independent filmmaker John Curran directs the romantic drama We Don't Live Here Anymore, with a script by Larry Gross based on the short stories of Andre Dubus. Starring Mark Ruffalo, Laura Dern, Peter Krause, and Naomi Watts. The story involves an extramarital affair that conflicts with the relationship between two affluent couples. We Don't Live Here Anymore was shown at the Sundance Film Festival in 2004 as part of the dramatic competition.
People Who Like this movie also like
Critic Reviews for We Don't Live Here Anymore
Audience Reviews for We Don't Live Here Anymore
½
Terry Linden: You gotta admit... even adultery has morality to it.  "Ordinary Lives. Extraordinary Emotions." Never have I watched a movie and been this turned off by the mere thought of it. We Don't Live Here Anymore is such a pretentious movie about two couples who cheat on each other. I will say I like Naomi Watts and Mark Ruffalo as actors but their characters along with Laura Dern(I don't care what anyone says; she's a horrible actress) and Peter Krause's characters are so selfish and and completely unlikable. I thought for a second that Dern's character was going to be decent, but that isn't the case either. Basically by the hour mark I wanted all four characters to be shot. I didn't care how their marriages or affairs turned out; I just wanted the slow, melodramatic music to stop and the movie to end. It's a movie I really wish I wouldn't have watched and I don't say that too often.  I never want to think about this movie again, but Dern's unbelievable crying fits are engraved into my brain. How can anyone enjoy watching her act? The "I don't care, fuck anyone you want" story gets old after about 10 minutes. Then all we are left with is the talents of Watts and Ruffalo, which in my opinion is the reason this is almost watchable.
Melvin White
Super Reviewer
½
A competently acted but predictable and formulaic melodrama centering around two couples who become sexually intertwined. The film's inability to give us a reason to care about any of the characters involved is its major downfall, since if we don't care whatsoever about any of these four miserable individuals, why would we want to learn about them? As said, the acting is superb, especially Ruffalo and Dern, but Krause's character gets left behind big time, and the kids that are treasured so much by the characters as well as the story in general get next to no development, which isn't good when you consider the film's emotionally heavy climax. A forgettable drama that needed more development and a story brave enough to take risks.
Dan Schultz
Super Reviewer
Quite depressing movie about two married couples having affairs with each other. Veeeery slow. Not a bad movie, but definitely not one that I would recommend to anyone.
Cynthia S.
Super Reviewer
We Don't Live Here Anymore Quotes
There are no approved quotes yet for this movie.