What Doesn't Kill You
(2008)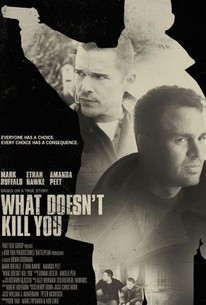 What Doesn't Kill You Videos
What Doesn't Kill You Photos
Movie Info
Inspired by his own tough childhood on the unforgiving streets of South Boston, director/co-screenwriter (along with Paul T. Murray and Donnie Wahlberg) Brian Goodman's tough-talking crime drama follows the journey of two childhood friends as they attempt to sever their powerful underworld ties. Ever since they were just young kids, Brian (Mark Ruffalo) and Paulie (Ethan Hawke) have always watched out for one another. From the petty crimes and misdemeanors of childhood to more serious criminal endeavors as they take their tenuous first steps into adulthood, the two sworn friends do their best to survive in the dog-eat-dog neighborhood while gradually falling under the sway of powerful crime boss Pat Kelly (Goodman). Fifteen years later, Brian finds his drug addiction threatening to drive away his wife (Amanda Peet) while simultaneously taking a toll on his longtime friendship with Paulie. It seems that neither of the two men can break free of the vicious cycle that threatens to consume them, and as turf-war tensions begin to build, police detective Moran (Wahlberg) takes to the streets determined to clean them up once and for all. Will Brian and Paulie prove successful in earning some quick cash while staying off the detective's radar, or has their longtime lucky streak in dealing with the law finally dried up?
Rating:
R (for language, drug use, some violence and brief sexuality)
Genre:
Directed By:
Written By:
In Theaters:
On DVD:
Runtime:
Studio:
Critic Reviews for What Doesn't Kill You
Audience Reviews for What Doesn't Kill You
½
"I'm sick of all this nickel and dime bullshit" The Best Supporting Actor nominations in this year's Oscars was arguably the toughest category of any. We had screen legend Robert Duvall in The Judge, a rejuvenated Edward Norton in Birdman, deserved winner J.K. Simmons in Whiplash and Mark Ruffalo and Ethan Hawke for Foxcatcher and Boyhood respectively. But, like me, what you may not have known is the latter two had already shared the screen together in true life crime drama What Doesn't Kill You. Paulie (Ethan Hawke) and Brian (Mark Ruffalo) are a couple of small time hoods who can only muster some small change from their petty crimes. This puts a strain on their personal lives and the bosses they work for so they decide to start aiming higher and branching out on their own. However, like most criminals, the deeper they get the greater the consequences. On the surface this looks like it's just another conventional blue-collar crime drama but on reflection it's much more than that. After it's opening heist scene, we are taken back to the early days and how Paulie and Brian got involved in their errands for local gangsters and the lack of any other opportunity presented to them. Slowly Hawke's character tails off and Ruffalo's afflicted family man takes centre stage and the film becomes more about his personal journey: trying to make ends meet; remaining loyal to his no-hoper friend; kicking his drug and alcohol addictions and supporting his wife and two sons. All the while, he's trying to stay one step ahead of the police and keep himself out of jail. The film works primarily on it's realism. The characters feel real, the South Boston setting feels authentic and it's anchored by Hawke and, especially, Ruffalo's excellent central performances. At one point there's a shooting (I won't say whom) but it's Pop, Pop, Pop.... there's a real sense of panic, helplessness and disorientation that you don't often see in scenes of this nature but I would have liked Goodman to inject a bit more adrenaline into his heist or robbery scenes as occasionally they can feel a little flat and not as exciting as they could've been. However, his focus on the more personal and heartfelt struggle of his characters impresses most and it's a solid directorial debut. Unfortunately, the film wasn't marketed very well and due to the collapse of it's distributor (Yari Film Group) it was released on a very small scale. This largely contributed to it slipping through the cracks. Added to which, some of the film's posters can make it look like a cheap B-movie and the fact that it's title changed a number of times across many countries done it no favours either. It's also know as: Boston Streets, Real Men Cry and Crossing Over. As you can see, the film never really had a chance. This is a real disservice, though, as it's a fine addition to the genre and both Hawke and Ruffalo deliver some of their best work while Goodman (who also co-wrote with Donnie Wahlberg) confidently displays his understanding of this harsh and unforgiving environment. In fairness, you'll have seen many films like it before and it doesn't really bring anything new the table but that's no reason for it to be overlooked. (And it certainly didn't deserve to be buried the way it was). If your a fan of this type of material and the leading actors, then these are reason enough to highly recommend it. Mark Walker
Mark Walker
Super Reviewer
½
Interesting, and worth while, crime drama about small time thieves in Boston. This is well made, and the acting is very good. A little slow at times, but the overall story is decent. Bottom line: the moral of this story is - crime does not pay.
Cynthia S.
Super Reviewer
Cast: Mark Ruffalo, Ethan Hawke, Amanda Peet, Will Lyman, Brian Goodman, Donnie Wahlberg, Angela Featherstone, Edward Lynch, Bates Wilder Director: Brian Goodman Summary: Partners in crime Paulie (Ethan Hawke) and Brian (Mark Ruffalo) find themselves at odds after years of pulling dangerous jobs, surviving turf wars and evading a determined detective (Donnie Wahlberg) in this gritty crime drama set in South Boston. The childhood buddies have gone through the wringer together, but when Brian's relationship with his wife (Amanda Peet) begins to fall apart, their loyal friendship is tested. My Thoughts: "It's a true story that is a bit of a gangster film, but more of a film based on friendship, and a father trying to make the right choices for his family. I really enjoyed Mark Ruffalo and Ethan Hawke together on screen. They were so good together. Very believable as long time besties. I also enjoyed Amanda Peet in this as well. Her screen time with Mark Ruffalo was very emotional and raw. She gave a great performance. It's not a great crime story, but the character's and the performances make up were the story lacks. A good watch on a slow moving night."
♥˩ƳИИ ƜѲѲƉƧ♥
Super Reviewer
What Doesn't Kill You Quotes
There are no approved quotes yet for this movie.