Who Loves the Sun
(2007)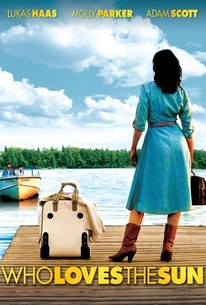 AUDIENCE SCORE
Critic Consensus: No consensus yet.
Movie Info
When the former best friend of a now-successful writer suddenly appears following an extended absence, the confrontation that follows will alter their views of the past and forever transform the future in a simmering tale of lost friendship from director Matt Bissonnette. It's been five long years since Daniel Bloom (Adam Scott) has heard from his longtime friend Will Morrison (Lukas Haas). After growing up together and even seeing Daniel serve as best man at Will's wedding to the beautiful Maggie (Molly Parker), no one would have suspected that the pair would part ways on such awkward terms. Now, after half a decade away, Will has suddenly appeared on the doorstep of Mary (Wendy Crewson) and Arthur's (R.H. Thompson) remote island cottage. Subsequently summoned back to his childhood haunt by a concerned phone call from his mother, Daniel departs from New York to finally find what became of the long-missing Will. But quite a bit has changed since those innocent days of youth, and just as the harsh words exchanged between the pair suddenly erupt into physical violence, Mary receives word that Maggie is waiting to be picked up at the local dock.
Critic Reviews for Who Loves the Sun
All Critics (3) | Fresh (3) | Rotten (0)
The twists are a little dizzying for a while, but the characters are all interesting and genuine and earn our sympathy and support. The ending is a bit of a surprise but nicely done, just like the rest of the picture.
A gentle, self-contained drama about confronting uncomfortable truths.
Audience Reviews for Who Loves the Sun
This was different but not bad....the ending was a nice curve ball.
Nikki Meroney
Super Reviewer
I was extremely jumpy at the idea of viewing this film. But then I saw it. Okay so I can't really write a review since I only lasted 30 minutes of pure "boringness". But my point here is: DON'T. SEE. THIS. I'm serious, it sounds like a good concept but damn! It's like listening to your mother rant about your room not being clean for hours on end - Impossible to endure! If you're brave, rent this. After all, Who Loves the Sun is the same as: Who Loves this Fugly Film?
Who Loves the Sun Quotes
There are no approved quotes yet for this movie.