Who the #$&% Is Jackson Pollock?
(2006)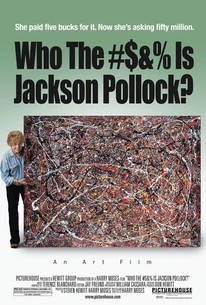 Who the #$&% Is Jackson Pollock? Photos
Movie Info
When Teri Horton, a 73 year-old former long-haul truck driver with an eighth grade education, bought a painting in a thrift shop for five dollars, she didn't know that it would pit her against the highest and mightiest people in the art world and perhaps change forever the way art is authenticated.
News & Interviews for Who the #$&% Is Jackson Pollock?
Critic Reviews for Who the #$&% Is Jackson Pollock?
Audience Reviews for Who the #$&% Is Jackson Pollock?
Liked this. It's a decent little documentary about the American art world and Jackson Pollock - not to mention a woman who is too stupid to accept 9 million for a painting she's told is a fake by experts. No sympathy.
Marcus Woolcott
Super Reviewer
Teri Horton is a mother, grandmother and retired truck driver who becomes the center of a heated debate after she buys what a local art teacher suggests may be a genuine Pollock. She buys the painting for five dollars (a price she haggled down from eight dollars,)at a local thrift store. The painting is for a friend that has been feeling down. If you were to only know this about Teri then you'd know enough. She is strong, blunt and kind-hearted. That is exactly what director Harry Moses does, he captures her spirit as she becomes the center of a film about the art world. Teri is painted as a heroine, albeit a foul-mouthed, dumpster diving heroine. The art world (museum directors, art gallery owners, art lawyers,) become the shadow that looms, eager to crush those who would dare enter their realm. Is Teri up to the challenge of facing off against such well-funded viciousness? Her journey, which unravels over a decade, is a fascinating one. Will the painting be proven to be an original Jackson Pollack? Teri's quest to determine this reveals much about the art world and much more about the strength of a woman. A woman who refuses to be brushed aside, a woman who has worked hard for everything has with great pride. What is art? Who is it for? Who determines its worth? These and many other questions are asked of us as we watch this quirky, intelligent, affectionate film.
Laura Cameron
Super Reviewer
A transparent look at the art world. Fascinating trucker and treasure hunter Teri Horton stumbles across what she thinks may be a Jackson Pollock, and she has to battle the tastes of art collectors and agents to prove its authenticity. After a long battle with the reigning gods, she enlists the help of an outcast looking to get back in the game and an art authenticator who uses science instead of gut feeling to determine authenticity. Various art world figures are asked about the painting by the filmmakers, including an expert imitator or forger, several art brokers, a painter of Pollock's generation, art investors, and gallery owners. Besides the evidence which links a fingerprint on Teri's painting to four authentic Pollock's and matches paint samples to Pollock's workshop, I instinctively feel that this IS a Pollock. For the art connoisseurs who look at it and appraise that it hasn't got the energy and feel of "a Pollock" without doing detailed analysis of paint patterns, I wonder if they have ever seen "an authentic Pollock" that they felt "didn't have the energy of a Pollock". Too much of their appraisal is subjective and in a vacuum of their own aesthetic sensibilities. These people are particularly stunned when the forensic investigator discovers that Pollock used acrylic, a paint which was believed by art historians to not be available at that time to Pollock's workshop. This is a great film demonstrating the modern evolution of the herd mentality and subsequent clash of different cultures to determine "what is art?".
_kelly .King
Super Reviewer
Who the #$&% Is Jackson Pollock? Quotes
There are no approved quotes yet for this movie.