Who's Got the Black Box?
(1967)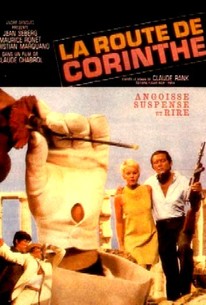 AUDIENCE SCORE
Critic Consensus: No consensus yet.
Movie Info
In this complex spy-thriller, the US radar installations in Greece are suddenly jammed and a NATO security agent is killed. The prime suspect is his own wife, who is innocent. She investigates on her own to prove it and ends up entangled in an espionage conspiracy.
Critic Reviews for Who's Got the Black Box?
Audience Reviews for Who's Got the Black Box?
½
"Who's Got the Black Box?" starts with customs officials paying more attention to the black box Socrates, the magician, has, than all of the livestock he is trying to bring into the country. Since it can conceivably interfere with missiles, they have a right to be concerned and torture him until he gives up a little more information before he performs his final trick. Sharps(Michel Bouquet), unctuous weasel that he is, assigns the task of finding the other black boxes to Robert Ford(Christian Marquand) who makes contact with Alcibiades(Claude Chabrol, who also directed) who wants $1,000 for the information he has. Before the deal can be consummated, Ford ends up murdered, with his wife Shanny(Jean Seberg) framed for the deed. As far as Alcibiades is concerned, that should not stop business and still wants his money. And that's when Dex(Maurice Ronet) enters the picture. "Who's Got the Black Box?" looks great in capturing the beautiful Greek scenery, populated by colorful villains. That's not to mention a totally classic opening scene. Sadly, the movie has no idea where to really go from there. Basically, the plot is just an excuse for Jean Seberg to run all around Greece in miniskirts.(A possible alternate title could be 'The Perils of Shanny.') To be honest, it is kind of unfair to ask her to carry the film since she is not really a comedienne and certainly no Audrey Hepburn. Claude Chabrol trying to do zany and madcap does not work either, with a dash of politics thrown in, as it clashes wildly with his normal straightforward tendencies.
Your enjoyment of this movie is likely to be proportional to your affection (or otherwise) for the likes of "The Man from U.N.C.L.E.", "The Avengers", Dean Martin's 'Matt Helm' movies, Ken Russell's "Billion Dollar Brain", the original "Casino Royale", etc, etc. The presence of Jean Seberg is certainly a bonus. Try to imagine a French version of "The Avengers", set in Greece, and you'll have a good idea of what's in store here. The paper-thin plot isn't really worth going into, but the location photography is nice and some of Chabrol's compositions are geometrically interesting. Like other products of its time, for example "The Avengers" and "The Prisoner", "The Road to Corinth" is often funny-peculiar rather than funny-haha. One particular scene, in which Seberg, toying with the idea of prostituting herself to raise $1000, is shown a pornographic film by a man in a limousine, reminded me of the Richard Lester of "Help!", for some reason. Seberg's 'Perils of Pauline-like' brushes with death are great fun. One for the Seberg or Chabrol completist, or for connoisseurs of campy Sixties entertainment.
Who's Got the Black Box? Quotes
There are no approved quotes yet for this movie.