Wishmaster 2: Evil Never Dies
(1999)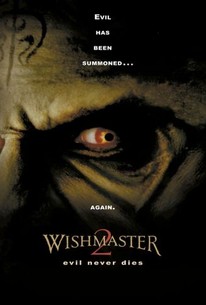 Wishmaster 2: Evil Never Dies Photos
Movie Info
In this sequel to 1997's Wishmaster, an evil genie is released from captivity in a museum and quickly takes human form, where he starts granting wishes to the weak-willed in exchange for their souls.
Critic Reviews for Wishmaster 2: Evil Never Dies
Audience Reviews for Wishmaster 2: Evil Never Dies
½
Wishmaster 2 is a cheaply made sequel to the good first film. This one feels rushed, without taking the time to get things right. In doing so, the filmmakers fail at delivering genuine scares, and instead give us a film that is more silly than frightening. This film is painful to watch, and the cast here are bad and they deliver wooden performances that are just forgettable. The film is basically designed to fill the needs of a sequel, where there isn't one. The film lacks anything to really please horror fans, and you're left wanting a lot more. This film is tiresome, dull and boring, not to mention very stupid. It was clear that the filmmakers didn't care how this one turned out. The first film was a good, entertaining although not perfect film, but it was watchable. This on the other hand is a wreck from start to finish. This is standard low-budget horror film fare and it shows. The film tends to use the same formula of the first, but dumbing down the interesting aspects that made the first good. With this film, it's just another run of the mill sequel with no objective. This film is just poorly constructed entertainment that just doesn't cut it. There's nothing remarkable about the film, and everything is forgettable. Wishmaster 2 is a film that really doesn't stand out, and there was lots of potential in making a good sequel, unfortunately all that was wasted with a poor script, and lazy filmmaking. Definitely stick with the first film, but avoid this one along with all the sequels.
½
Titillation fills in for fewer makeup effects as the first and so we've a couple of writhing-in-terror-in-bed-in-my-underwear scenes with Holly Fields and that's about it for this installment of the series. Many scenes of the bad guy standing around saying "fulfill the prophecy!" w/o doing a damn thing about it. Nearly frustrating.
Kevin M. Williams
Super Reviewer
Well it's not as good as the first I'm afraid, good to see Andrew Divoff back again as I think it was a new actor for the 3rd and 4th films. He hams up the Djin rather well, but the deaths are not as inventive as the first. I didn't think it was quite as gory as the first and it didn't have the dark humour of the first either. If you liked the first you might enjoy this, it just doesn't reach the heights of the first.
Wishmaster 2: Evil Never Dies Quotes
There are no approved quotes yet for this movie.