Witnesses
(2004)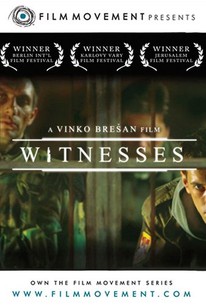 Movie Info
Croatian filmmaker Vinko Bresan directs the political drama Svjedoci (Witnesses), based on the novel Alabaster Sheep by Jurica Pavicic about real-life war crimes committed during the Serbo-Croatian war. The film meditates on the tragedy belying conflicts that pit neighbor against neighbor - in this case, the Croatians against the Serbs in the early 1990s. The picture opens with three Croatian soldiers opting to intimidate and strong-arm a Serbian man by burning his house to the ground; instead, their plan goes a bit too far and he is brutally murdered, his daughter kidnapped. At this point, Bresan fractures his narrative and jumps back and forth in time, between the reaction of the gunmen to the events, the police investigation of the kidnapping and murder, the events leading up to the attack and the widow's plight. Witnesses was screened in competition at the 2003 Motovun Film Festival. ~ Andrea LeVasseur, Rovi
Critic Reviews for Witnesses
Audience Reviews for Witnesses
September 03, 2014 The repetition of certain sequences, although adding to the events every time to unfold the story further, seems a bit odd. The use of nonlinear narrative may prove to be a turn off for a few good men. If you can take that, it's quite a watchable flick (based on a novel which in turn is said to be inspired from real events). The story reminded me of that saying, "It's not the crime, it's the cover-up." Just saying!! Well, enough said. 3/5 would be fair enough, IMO. Feel free to be a witness & decide the judgment for yourself.
familiar stranger
Super Reviewer
"Witnesses" is set in a Croatian town where Josko(Kresimir Mikic), Vojo(Marinko Prga) and Baric(Bojan Navojec) have gone to bury their fallen comrade in arms. While there, they go armed to a home and are surprised to find the occupant, a Serb, is home and accidentally kill him. At the house of Mirija(Mirjana Karanovic), the mother of the dead soldier, they debate about what to do with what it is in the garage and whether to let it go. Meanwhile, Barbir(Drazen Kuhn) is investigating the crime for the police while Lidija(Alma Prica), a reporter, discovers some inconsistencies in the evidence. "Witnesses" is an intriguing movie with much to say on the nature of identity in a war where the lines are not clearly drawn and nobody is left unscathed, not the soldiers or the ones left behind. At first the mystery is a compelling one but the movie gets tripped up by its own complex structure, following one character before rewinding and following another to slowly reveal the secrets layer by layer, that only makes events seem murkier than they really had to be.
½
(2005 Director: Vinko Bresan) My review? Hmmm...this film kind of repeats itself. Use of an "instant replay" but adding this to what had already been seen....finally actually put me to SLEEP! Adapted from the novel ''Plaster Sheep," using elliptical story retellilng character by character we are shown over and over the order of events, but by a different character's recollection....... Set in the NOT happy wartime Bosnia..A man dies. His WIDOW,Majka (played by Mirjana Karanovic) is joined by her son & his 2 fellow soldier buddies delivering the pre-buriel body to her home. Bad timing right thereafter for a neighbor to be murdered (albeit he was a Serbian smuggler & loan shark)? Or was it a suicide? Of course, the mom and son are quite quite worried about an investigation searching for witnesses even BEFORE her husband's burial (His body had to be transported to their home by her own son + 2 fellow soldiers as was the custom up until the recent generation). What is the truth? What actually happened? A likeable & realistic investigator named Barbir is portrayed by Drazen Kuhn). He has had a chance sexual intimacy with Novinarka (Alma Prica), whose occupation is newspaper reporter. Barbir is likeable and has a wife who has remained in a coma. Majka explains her situation to Investigator Barbir, then the movie backs up. Now we are shown the version of events known by Barbir. Then there is a second "replay" and then a third, etc etc. Somewhat confusing albeit interesting. Stars Leon Lucev, Alma Prica, Mirjana Karanovic, Drzen Kuhn & Kresimir Mikic. Since there is nothing here yet on Flixster, let me please also share with you a German friend's review, "The "other" gets a good working over in WITNESSES, Vinko Bresan's Serbo-Croatian war movie/murder mystery/family drama that, by its finale, has become a moving and highly sophisticated 84 minutes of moviemaking. As you?re watching, you'll suddenly think, "Wait: I've heard that line of dialog already." And indeed you will have. Not to worry: The fractured time frame here turns a story (that I believe plays itself out in just a couple of days) into a complex mix of actions, motives and outcomes that will rivet you. There is an almost classic sense of tragedy at work here--beautifully abetted by story, cinematography, direction, writing and acting--that touches on many of the usual suspects: the pointlessness of a war that turns next door neighbors into enemies, overbearing mothers, sibling rivalry, infidelity and so much more. But Mr. Bresan's ability to weave this together in nearly seamless fashion lifts "Witnesses" into the realm of art. Here is another sterling example of top-notch international filmmaking from the Film Movement group..." Link http://www.boston.com/movies/display?display=movie&id=8297
Witnesses Quotes
There are no approved quotes yet for this movie.