World on a Wire
(2011)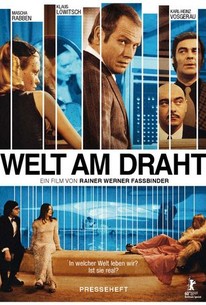 Movie Info
A dystopic science-fiction epic, World on a Wire is German wunderkind Rainer Werner Fassbinder's gloriously cracked, boundlessly inventive take on future paranoia. With dashes of Kubrick, Vonnegut, and Dick, but a flavor entirely his own, Fassbinder tells the noir-spiked tale of reluctant action hero Fred Stiller (Klaus Lowitsch), a cybernetics engineer who uncovers a massive corporate and governmental conspiracy. At risk? Our entire (virtual) reality as we know it. This long unseen three-and-a-half-hour labyrinth is a satiric and surreal look at the weird world of tomorrow from one of cinema's kinkiest geniuses. -- (C) Janus
News & Interviews for World on a Wire
Critic Reviews for World on a Wire
Audience Reviews for World on a Wire
½
An intriguing film of philosophical ideas that could have only come from Fassbinder - his style is all over it, including dazzling visual compositions that reflect with elegance what he wants to say (like with the mirrors) -, but the narrative is a bit repetitious in its expository dialogue.
Carlos Magalhães
Super Reviewer
½
A computer programmer assigned to run a virtual reality world after his superior goes insane finds himself paranoid about whether he is actually part of the simulation. This two-part movie made for German TV by Rainer Werner Fassbinder runs three and a half hours; it's the ur-virtual reality movie, a lost science fiction classic with rigorous philosophy and deep artistry.
"He's got a little bitty baby on a wire; he's got the whole world on a wire!" I don't know what in the world on a wire that verse-less song is about (It's "He's Got the Whole World in His Hands" by the ways; learn your dirt-old music, kiddies), though I think that I might be more lost with this film, because I don't know where Mel Gibson or Goldie Hawn are, nor do I know who this Rainer Werner Fassbinder guy is. I thought that this was Werner Herzog. Oh no, I'm sorry, Herzog did "Man on Wire" and Mel Gibson was in "Bird on a Wire", which was scored by Hans Zimmer, so I think it's safe to say that if you put "on Wire" in your title, then you stand a good chance of getting a major German member of the film industry attached, probably because the Germans in question wish they were attached to this film, because for a TV movie, this was a hit, or at least to people who are willing to sit through three-and-a-half hours of German, which narrows it down to people who speak German, me - the American who had the guts to sit through the uncut, five-hour version of "Das Boot" - and the Criterion Collection. Shoot, at this point, I don't know if Criterion or, well, most everyone else in the film criticism industry so much actually watch, let alone read these films, as much as they read "German", "1973" and "three-and-a-half hours" in descriptions of this film and automatically think, "genius!" Hey, I can't blame them too much, because although I very rarely call something genius, lord knows that if I'm gonna watch a three-and-a-half-hour-long film that's in a language I don't understand, or any kind of three-and-a-half-hour-long film for that matter, then it better be good, as my opinion toward "Alexander", or at least the extended cut of "Alexander", definately proves. Don't worry people, this film definately keeps up its being genuinely good more consistently than "Alexander" does, and yet, with that said, this film still doesn't quite make it to terribly worthy of the praise the annoyingly snobby critics are giving it, for although this film is good enough to where it easily avoids dangling toward the edge of underwhelmingness, it doesn't exactly walk the wire of quality with consistent ease. Running over three-and-a-half hours and being made for TV, and by extension, general audiences, rather than just annoyingly snobby Cannes critics who just love arrogant art pieces that have nothing but nothing to say or do, plenty obviously happens throughout the course of this film, yet it's not quite an epic, but is instead a sci-fi noir film, and not even that kind of elaborately produced "Blade Runner" sci-fi noir, partially because, as I said, stuff actually happens and the film is, as implied, not really all that dull (Calm down, I like "Blade Runner", but jeez, Ridley, pick up the pace!). This is a good old fashion stylish conversational noir drama that goes driven by dialogue and intrige more than action and raw suspense, which is good and all, and certainly makes for a good film, yet it's hard to tackle such a genre without falling into a trope or two or three or four, even when your film is ahead of its time. Well, sure enough, while the film is nowhere near as ciched as a contemporary TV movie (Few things are), it will sometimes collapse into a story trope explored by films of its type time and again, sometimes in a throwaway fashion and sometimes in a glaring fashion, while also sometimes collapsing into something that's not necessarily a trope, but a tradition that has been practiced by many films of this type: being a bit too steady for its own good. The film isn't all that slow, yet it will occasionally take its time with things and limp along with only so much bite to sustain your engagement, rarely to where the film is rendered bland and never to where to where the film is rendered all that dull, yet still to where you'd be hard pressed to feel as though this film needs to get a bit more pressed for time. Of course, the film's biggest problems is an aspect that I've been refering back to over and over throughout this review: it's three-and-a-half hours, or in other words, way too blasted long, and earns such a runtime, not through nothingness and filler, but through too much exposition. This kind of film is built around exposition, but this kind of film isn't built for a length this sprawling, and thus goes plagued by way too much repetition and looseness in story progression, which not only gives the audience enough time to really get a close look at the slow spots and story convention, but leaves the film to lose too much steam in too many places to keep your attention fully sustained. However, those who are patient will find themselves ultimately rewarded, which isn't to say that this film requires quite too much patience, because as much as I complain about film's having slow spots, lapses in engagement value and simply being too long, it keeps you going much more often than it lets you go, and does so with more than a few tools that were ahead of this film's time and remain impressive to this day. Stylistically, the film was ahead of its time, pulling moves that have still dated to one extent or another, yet are still considerably impressive to this day, with Michael Ballhaus' and Ulrich Prinz's cinematography being nothing short of upstanding. Sure, maybe the photography will occasionally pull that lame trick of suddenly zooming in on something or someone's face all unsubtly dramatic-like, yet on the whole, the photography enhances the clever themes of the film, pronouncing color and playing with the limitations of the time for a somewhat surrealistic effect that catches your eye and gracefully helps in both slicking up and defining the tones and themes of the film. As for Gottfried Hüngsberg's score work, its noisily surrealistic synthesizer style takes some getting used to, but once you do manage to settle down and find yourself able to run with Hüngsberg's work, expect to be impressed by its being so uniquely non-melodic, for although you're not likely to be kicking it to this soundtrack on your MP3 or radio - unless of course you're taking acid, in which case, you better hope you don't fall into a bad trip -, the music is so very atmospheric, and when the then-top-notch and still-stellar sound design seamlessly bonds this bizarre audio style into the film's environment, the music's atmospheric effectiveness goes amplified and defines this film's intrigue and surrealism in a clever and engrossing fashion that is, so to speak, graceful in its lack of grace. The film is stylistically striking, with art direction, audio tricks and even a few fine production designs that catch your attention, while what secures that attention, as well as investment, through most of the film is the story, which may not be especially remarkable, or even wholly original, yet remains pretty excellent and fascinating, with depth, intrigue and, of course, plenty of layers and complexities that render the film convoluted, but in a good way. If you're American and have enough trouble trying to figure out what in the world (on a wire) these Germans are going on and on about, then the idea that you'll have to unravel a complex story that's already conceptually convoluted probably doesn't sound too easing, but if you're willing to go all in, when you get down to it, it's quite fascinating, if not just plain compelling watching everything fall into place, even with all of the slow occasions and common spots of repetition, and for this, credit not only goes out to Daniel F. Galouye and Rainer Werner Fassbinder for concieving such a nifty story, as well as crafting a well-structured and lively screenplay around that nifty story concept, but Fassbinder's direction, which isn't exactly stellar, yet remains inspired and atmospheric, boasting livliness, depth and intrigue that sparks sharp charm during the relatively less serious moments and engagement value during plenty of relatively more active moments. Fassbinder doesn't keep this film going consistently smooth, yet he lives things up more often than not, and with that livliness going intensified by the aforementioned sharp style, as well as a slew of charimsatic performances within this colorful cast, the final product, even with all of its drops in momentum and engagement value, comes out more often than not quite entertaining. Sitting through this film will prove to be a bit of a challenge, considering its unnecessarily hefty length and all of the damage done to steam, yet if you're willing to take the wire for what it is, expect your walk across to be generally smooth and ultimately rewarding, as the film is thoroughly stylish, often fascinating, generally entertaining and altogether pretty good television. Once the wire runs thin, you're left looking back at a final product whose steam and engagement value goes hurt by a couple of cliches, tainted by a couple of slow spots and plagued by the film's simply being just too long to have such a hardly broad story, which goes padded out by plenty of repetition and overlong moments, until the final product is left a bit bloated and flawed, yet nevertheless rewarding, boasting stylistic choices - ranging from colorful cinematography by Michael Ballhaus and Ulrich Prinz to neatly surrealistic score work by Gottfried Hüngsberg, and even clever sound design - that were ahead of their time, and remain impressive today, much like the story, which may not be broad enough to be as lengthy as it is, yet remains compellingly complex and well-structured, as well as brought to life by Rainer Werner Fassbinder's inspired direction and a colorful cast of charismas, thus creating much intrigue and even quite a bit of entertainment value that ultimately prevail in making in "World on a Wire" (or "Welt am Draht"; German film titles sound cool) a consistently enjoyable sci-fi noir that rewards the patient. 3/5 - Good
Cameron Johnson
Super Reviewer
World on a Wire Quotes
There are no approved quotes yet for this movie.