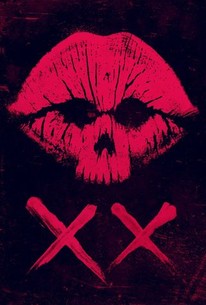 XX
2017, Horror, 1h 21m
64 Reviews
2,500+ Ratings
What to know
critics consensus
XX's array of distinct female filmmaking voices -- and the empowerment their collection represents -- offer enough thrills to make up for the overall uneven quality that plagues most anthology projects. Read critic reviews
Where to watch
Rent/buy
Subscription
Subscription
Rent/buy
Rate And Review
Movie Info
Filmmakers Jovanka Vuckovic, Annie Clark, Roxanne Benjamin and Karyn Kusama present four horrific tales of terror. In "The Box," a boy (Peter DaCunha) starts to display strange behavior after looking inside a mysterious gift box. In "The Birthday Party," a woman (Melanie Lynskey) refuses to let an untimely death ruin her son's bash. In "Don't Fall," an innocent camping trip turns deadly, and in "Her Only Living Son," a mother (Christina Kirk) must deal with the child from hell.
Audience Reviews for XX
XX is the first horror anthology comprised entirely of female writers and directors. That's the most noteworthy thing for this relatively disappointing movie. None of the four main segments are that interesting and several don't really have endings. The first segment has the most potential, "The Box," about a child that stops eating after getting a peak inside a stranger's wrapped gift. The family joins him one by one except for the mother. That's it. There's no resolution, one moment of shocking gore, and the rest is straightforward maternal ennui. The second is from musician St. Vincent (née Annie Clark) called "The Birthday Party" and it's not really horror so much as it is dark comedy with a heaping helping of slapstick. Melanie Lynskey (Togetherness) is an overextended mother who discovers the dead body of her husband on the morning of their daughter's birthday. She has to go to elaborate measures to hide the body while still juggling all the responsibilities others expect from her. It's amusing in spurts but is often too obvious. The third segment "Don't Fall" is the most professionally realized and has some nasty special effects, but it's nothing more than another throwaway entry in the teens-meddle-with-forces-in-nature-and-are-swiftly-punished subgenre. It's the shortest segment so that helps too. Finally, Karyn Kusama (Jennifer's Body) writes and directs "Her Only Living Son" which intends to flip the script on the Rosemary's Baby scenario. The segment reveals its secrets slowly, which makes it a more engaging short to digest. However, it too ends on a perfunctory note. I know there are many talented female filmmakers out there biding their time, waiting for their chance to show their mettle in genre filmmaking, an area that skews heavily male. That's what makes XX so frustrating. There has to be better material and better filmmakers out there who would kill for this kind of showcase. Maybe next time (XX2?). Nate's Grade: C

I'm honestly starting to think that anthology horror movies might be my favorite sub-genre in all of horror. And, really, it can't even be called an actual genre, per se, since the actual content of each short could, and should, be completely different from one another. That's part of the fun of anthology films, seeing what different filmmakers (if you do decide to have different filmmakers) can come up with. I will say, however, that the best anthology movie I've ever seen (Wild Tales) was written and directed by one person, so there's also something to be said for that. I also do think that part of what I like about the concept is the fact that there's no real limitation to what you can do. Since you only a very limited amount of time, your short can pretty much be anything you want it to be. In many ways, you could say that, while you have a limited amount of time, you have great creative freedom. But, as with many anthology films, the fact of the matter is that the it is difficult to always find a consistent tone. Because you simply do not know what you're gonna get. You could have one great short in your anthology film. Or have of them could be good and the other half suck. There's no real quality control when it comes to these movies. This brings us to this flick and it, pretty much, falls right into the trap associated with the genre. The shorts themselves just aren't consistent. Since none of them are really long, I'll go over each segment of the film one by one and provide my thoughts. The Box: We start off with a short that, honestly, was a bit of a mixed bag for me. Basically, Danny, while riding on a train with his mother and sister, sees this man holding this red box that he describes as a gift. Danny, being a bit of nosy dumbass, asks what's inside. His mother casually chastises him for asking. The man says it's ok and shows Danny what's inside. After this, Danny decides to simply stop eating what he is given, as he says he is not hungry. The mother, at first, isn't particularly worried, even when it's obvious that there's a problem. About a week or so after this, Danny tells his sister what he saw in the box and then she goes through the exact same thing. She refuses to eat what is given to her. Later afterwards, the father coaxes Danny to tell him what he saw in the box. And, you guessed it, the father stops eating as well. Eventually these three just waste away until they all die of starvation at the hospital. Not at the same time, but they all die relatively close together. After this, the mother decides to find this man that showed her son the box and then the short ends. First things first, this isn't really much of a horror short. There's no legit horror here outside of a dream sequence where the mother is having parts of her body eaten by her family at their dinner table. The film toys with the idea of the content in the box, quite literally, being nothing as a concept or an idea. I suppose the short could be interpreted as women's, since every short in the film is told from a female perspective, need to conform to society's standards to be skinny, since that is what is pushed everywhere. I get that, and it's a good enough concept, but I just found this whole short to be a little dull. Nothing much happened, it was too languid to start off an anthology. But that's just me. It's not bad, but it's not what I would call good. The Birthday Party: To be perfectly honest, if I would have started the anthology with this one, since this might actually be the best short of them all. It's not even a conventional horror short, but you wanna start off with a bang and this movie certainly does that. Perhaps not literally, but it's pretty great. Basically, Mary is holding this birthday party for her daughter and she believes that her husband, the girl's father naturally, won't be home in time. Much to her surprise, her nanny or something, tells Mary that her husband's car was outside. Searching for him, she finds him in his office, dead from an apparent suicide. Essentially, the segment boils down to Mary trying to hide the body from everybody in order to keep her daughter's birthday party from being cancelled due to a corpse. I mean, why spoil a little girl's birthday party just because of a corpse? He'll still be dead when the party is over, right? This segment is more darkly comedic, as if it wasn't obvious, as Mary is dragging this body around trying to conceal it from her daughter (to not scar her for life) and everyone else so they don't call the cops. Eventually, she buys this panda costume off of a guy that was meant to sing a birthday song to her daughter. Mary puts her husband in the costume and sits him down at the table where the party is taking place. There are children around her, celebrating, partying, while her husband, in the panda suit, is just sitting ther, head slouched and dead. It comes to pass that someone knocks the head off of the panda suit and, yes, all of the children start to scream in terror. It was tremendous. So, yes, her attempts to keep her daughter from being scarred for life backfired and ended with every child at the birthday party being scarred for life. And the real title of the movie at the end of the short was tremendous as well. Just a great, great short. Melanie Lynskey is great as always. I loved every second of this, but the ending takes it up a notch. This is what you start on. Not like The Box, which was dull and a little boring. Don't Fall: This will probably end up being the shortest of the individual reviews, since this short only goes like 10 minutes and there's not even that much to it. This group of friends are on an expedition out in the desert. While there, they find this cave painting of an evil spirit. Later in the night, while the friends are camping, the same spirit takes over the body of one of the people on this expedition, Gretchen to be exact. This evil spirit does not have the best of intentions, naturally speaking, and it starts attacking the rest of the group. This segment of the film is definitely the most straightforward of the bunch. And, really, it might also be the worst of them all. At 10 minutes, it's not like it can be that bad, but it just didn't do anything for me. Say what you will about other shorts in the film, but at least it came across as if there was some sort of ambition to try to do something different. Again, there's no limitations. You could have sold this movie just on the fact that it's an anthology film. There are people out there who'll watch any horror anthology film they can find (like yours truly). You don't sell this film based on the actual content, the anthology aspect of it is what sells. I mean, hopefully, it ends up being a good movie. A shit movie, anthology or not, is a shit movie and that's gonna affect how many eyes are on it. But the point I'm trying to make is that you should just try something wacky and out of the box. The risk is worth the reward if it pays off and if it doesn't, hey, at least you made the effort. And that's what I don't like about this short, it's not particularly good, but it's also got a predictable concept that's been played out in horror. There's nothing special or unique about this. Very disappointing and, if you're gonna pick and choose which shorts to watch, leave this one off. Her Only Living Son: This is probably my second favorite short of the bunch. That isn't saying much, of course, since there's only four of them. But I really liked this one regardless. Cora's rebellious son is about turn 18 and she hopes to make it special for him. Her son is a bit of a dick, though. Cora goes to the school to meet with the principal about an incident her son had with another student. Apparently, during an argument, he ripped another student's fingernails clean off. Like he just tore them off, they don't actually show this, but can you even imagine the pain that must have caused. Anyway, the people at the school are very lenient with Cora's son and they recommend that the victim of this attack leave school. Cora is perplexed at the fact that the school isn't gonna punish her son. Apparently the people at the school believe that Andy, Cora's son, is meant for special things and that he is a prodigy. Andy's behavior starts to worsen the day of his 18th birthday. His voice has changed and his finger/toenails have become claws. It's made clear that Andy is the literal son of Satan. And Cora has known all this time and she has been on the run from this cult that want to use Andy for his own purposes ever since. What I liked about this one is the fact that it's more of a personal story. There's obvious allusions to Rosemary's Baby here and the fact the Andy may, in fact, be that baby. But what I liked about the story is how this is very much about her mother fighting as hard as she can to not lose her baby boy to this thing that he is becoming. She also does not want to lose him to this cult that wants him for their own agenda. While it's obviously a more concisely told story, I still thought it was good. Perhaps the horror itself might not have been out of this world, but I enjoyed this nonetheless. This and The Birthday Party are the two shorts that I would recommend if you really had to pick and choose. But, really, at 76 minutes, you can watch this no problem. And it's not like the weaker sections of the film go that long anyway to be truly infuriating. I digress, this was good. Before I end this review, I should say that before and after every short, the wraparound if you will, are these stop-motion segments of an walking dollhouse. These parts of the film don't really amount to much other than just to connect all these shorts together, but the visuals are surreal and suitably creepy. Long story short, XX suffers from the very same issues that plague most anthology films and that is the fact that they're inconsistent. And this one is no different. This is the very definition of a mixed bag. Two are good and the two others are kinda meh. One of them is really more boring than it is bad, but the other one is just bad. You'll be able to tell if you read the reviews. That's about it, really, another decent anthology films that's plagued by all the same problems associated with the genre. Though this is still a very watchable movie, it's just one that I can't find it in my heart to call good. This is certainly no VHS: Viral, that movie sucked (outside of Vigalondo's short). This is much better than the aforementioned one. Watch at your own risk.

A project that I'm glad got put together, but that still has the faults typical of anthology horror.
See Details