Jingi naki tatakai (Battles Without Honor and Humanity)(The Yakuza Papers)(War Without a Code)
(1973)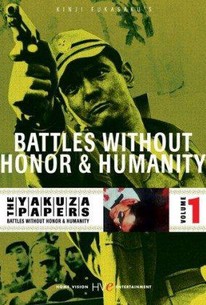 Movie Info
Kinji Fukasaku directed this powerful and uncompromising look at the deadly stakes of life among the Yakuza -- the Japanese Mafia. Shozo Hirono (Bunta Sugawara) is a former Japanese soldier who, following his nation's defeat in World War II, finds himself in a prison cell in Hiroshima on a murder charge. While behind bars, Hirono gains a loyal friend in fellow criminal Wagasugi (Tatsuo Umemiya), and upon his release Hirono joins Wagasugi in an underworld gang. What starts as a seemingly easy way to earn some quick money becomes something darker and bloodier as Wagasugi and his comrades fall into a violent street war against another mob faction that grows into a long-standing feud. Jingi Naki Tatakai (aka The Yakuza Papers: Battles Without Honor and Humanity) was the first in a series of five successful crime films from Fukasaku. ~ Mark Deming, Rovi
Critic Reviews for Jingi naki tatakai (Battles Without Honor and Humanity)(The Yakuza Papers)(War Without a Code)
Audience Reviews for Jingi naki tatakai (Battles Without Honor and Humanity)(The Yakuza Papers)(War Without a Code)
½
Absolutely deserves the title of being the "Japanese Godfather". Whereas Coppola's masterpiece focuses almost completely on one family, Fukasaku's film touches upon many families while still remaining devoted to the Yamamouri Yakuza clan. Fun to watch, formulaic but not so predictable and still exciting. The characters are very memorable and deliver some great dialogue. Shozo Hironi and Tetsuya Sakai are enviably cool. Other performances are good and tough all-around, especially the coniving Yamamouri. Fukasaku's documentary-like and experimental cinematography makes this film more than an usual action flick for me. Very very interesting stuff presented in a very watchable film.
Hyperviolent bloodletting. Beginning in postwar Japan, a small group of friends are caught in a yakuza rivalry and have to choose sides. As the title suggests, hypocrisy, betrayal, and assassinations are executed without honor or loyalty. While the action sequences are fast and furious, the multitude of characters makes the film hard to follow at times. That is, until the characters start dying and process of elimination allows you to figure out who's left. Looking forward to seeing the complete series.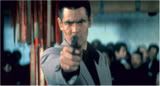 El Hombre Invisible
Super Reviewer
½
Great opening chapter to what I'm certain will be a great movie series. This would've got a perfect score except that (and this could very well be my own fault) I couldn't keep up with who's who. Also, for all the betrayals and backstabbings, I found that the initial friendships were not focused on enough, perhaps taking away from the tradegy of the plot. Despite that though, kickass story about a henchman who over the course of his yakuzadom, learns that when you work for criminals...well, you work for scumbags. Wheras a film like Sydney Pollack's, The Yakuza, really shows the honor system within the organized crime syndicate, Fukasaku throws that all away to show it's every man for himself while holding on to the pretension of the yakuza code. Fascinating stuff, and I look quite forward to seeing the rest to the films in the series.
Christopher Brown
Super Reviewer
Jingi naki tatakai (Battles Without Honor and Humanity)(The Yakuza Papers)(War Without a Code) Quotes
There are no approved quotes yet for this movie.