Ziegfeld Follies
(1946)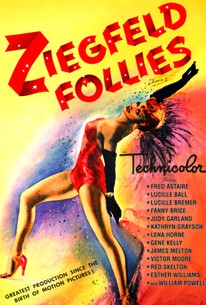 Movie Info
In this film, we meet the legendary showman Flo Ziegfeld in Paradise, where he looks down upon the world and muses over the sort of show he'd be putting on were he still alive. His "dream" show is populated almost exclusively by MGM stars.
Rating:
NR
Genre:
,
Directed By:
Written By:
Charles Walters
,
Lou Holtz
,
Robert Lewis
,
Roger Edens
,
Harry Tugend
,
Kay Thompson
,
Don Loper
,
Hugh Martin
,
Eddie Cantor
,
Jack McGowan
,
Robert Alton
,
Eugene Loring
,
John Murray Anderson
,
Irving Brecher
,
Devery Freeman
,
Samson Raphaelson
,
Wilkie Mahoney
,
Everett Freeman
,
Joseph Schrank
,
James O'Hanlon
,
Harry Crane
,
Guy Bolton
,
Edgar Allan Woolf
,
David Freedman
,
Philip Rapp
,
Frank Sullivan
,
E.Y. "Yip" Harburg
,
Ralph Blane
,
Allen Boretz
,
Eric Charell
,
Lemuel Ayers
,
William Noble
,
Max Liebman
,
Al Lewis
On DVD:
Runtime:
Studio:
MGM Home Entertainment
Critic Reviews for Ziegfeld Follies
Audience Reviews for Ziegfeld Follies
MGM's all-star revue spared no expense in showing off the studio's gallery of stars in lush, Technicolor settings; the film ranges from the sublime ("This Heart of Mine" and "Limehouse Blues," both danced by Fred Astaire & Lucille Bremer; "The Great Lady Gives an Interview" with Judy Garland; "Love" with Lena Horne) to the silly (a brace of hoary old vaudeville sketches and Kathryn Grayson singing the finale, "There's Beauty Everywhere.")
Michael Troudt
½
As it says in the movie, "Ziegfeld never cared so much about villains, plot, stories. The Ziegfeld Follies was itself a story of an era". So, while it doesn't offer anything in terms of narrative, this is a priceless document that gathers some of the biggest stars of the 40's, luminaries who have become celluloid icons. Sadly, the real star power (Judy Garland, Gene Kelly) appears too late into the picture, after an hour and a half of random musical numbers, dance sequences and comedic skits. So much style and so little substance does get tiresome after a while and, while the film's visually dazzling, it's also unbearably campy and over-the-top. Of course it didn't seem that way 60 years ago, but some bits are incredibly racist and/or offensive. See only for Garland's "The Great Lady Has An Interview" number and the amazing pairing of two of dance's biggest legends, Gene Kelly and Fred Astaire in "The Babbitt And The Bromide". Then again, you could watch those two clips on YouTube and save yourself the boredom.
Fernando Rafael Quintero Castañeda
Super Reviewer
This movie doesn't exactly have a story, it's more of a showcase of song and dance numbers starring many great actors. A nice picture of the Ziegfeld Follies.
Ziegfeld Follies Quotes
There are no approved quotes yet for this movie.