ZMD: Zombies of Mass Destruction
(2009)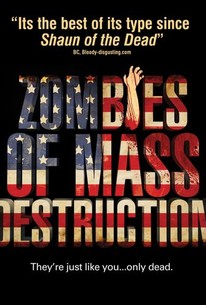 ZMD: Zombies of Mass Destruction Photos
Movie Info
A small town wrestling with xenophobia is forced to open its collective mind in order to ward off a pack of brain-champing ghouls in this horror-comedy from writer and director Kevin Hamedani. It's 2003, America has invaded Iraq, and Port Gamble, Washington is a town in the Pacific Northwest that's fallen on hard times; fishing in the nearby harbor has dried up, local businesses are closing, and a lot of folks in town are looking for someone to blame for their troubles. Frida (Janette Armand), a college student of Middle Eastern descent, has come home for the summer to work in her dad's diner, and has to deal with narrow-minded locals who foolishly suspect she might be a terrorist. Meanwhile, Tom (Doug Fahl), who left Port Gamble years before, is wary about returning to visit his mother; Tom is gay, and has come home to tell his mom about his sexual orientation and introduce her to his boyfriend Lance (Cooper Hopkins). However, Frida's work behind the counter and Tom's revelation to his family take a back seat when a pack of hungry, flesh-eating zombies invade Port Gamble, and the most narrow-minded members of the community are forced to throw in their lot with some folks they're not sure they trust to fight off the undead mob. ZMD: Zombies of Mass Destruction was an official selection at the 2009 Seattle International Film Festival.
Critic Reviews for ZMD: Zombies of Mass Destruction
Audience Reviews for ZMD: Zombies of Mass Destruction
So much unnecessary human drama. It's a Zombie film not General Hospital.
Ken Stachnik
Super Reviewer
Somewhat entertaining if you, like me, are addicted to zombie films. The makeup is often sub-par, but the acting level is much higher than most Z-movies. There are also some really impressive (non-action) gore installations. Available on Netflix Instant Watch, so check it there if you're a zombie addict.
_kelly .King
Super Reviewer
Campy pseudo-horror that tries to be scary, funny and hip. 0 for 3. What ZMD does manage to do is insult Muslims, gays and legitimate genre films. This is an hour and a half of your life that you are going to want back.
Randy Tippy
Super Reviewer
ZMD: Zombies of Mass Destruction Quotes
There are no approved quotes yet for this movie.