A Lie Agreed Upon, Part II
EPISODE: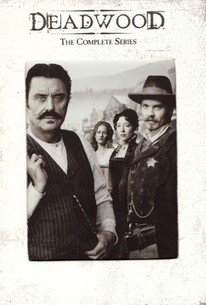 Episode Info
In the wake of Martha (Anna Gunn) and William's (Josh Eriksson) arrival, Seth (Timothy Olyphant) tells Alma (Molly Parker) that they must either leave the camp immediately or "remain and sever connection." He wants Alma to decide their course, and gives her a few hours to do so. Trixie (Paula Malcomson) is tending to the wounded Sol (John Hawkes), who suggests to Seth that if he left with Alma, it would be out of shame, not love. "You think shame will end when you clear the camp?" he asks. Alma confides in the tutor she's hired for Sophia (Bree Seanna Wall), Miss Isringhausen (Sarah Paulson), who suggests that Seth might not be planning to take Sophia along with them for their adventurous life on the run. Charlie (Dayton Callie), fearful of Seth's temper, tries to forestall Seth's returning to the Gem to retrieve his gun and badge. Silas (Titus Welliver) tells Al (Ian McShane) that the powers in Yankton are worried about Seth's prominence in the camp, because Seth has powerful connections in Montana, which could annex the territory instead of Dakota. Al, whose health problems extend well beyond the injuries incurred in his fight with Seth, refuses to talk to the Doc (Brad Dourif) about his difficulty passing water. Dan (W. Earl Brown), feeling increasingly threatened by Silas, picks a fight when Silas' old partner, Hawkeye (Monty Henson), arrives in camp. Later, Al reassures him, "Whatever looks ahead of grievous abominations and disorder, you and me walk into it together, like always."
A Lie Agreed Upon, Part II Photos
Discussion Forum
Discuss Deadwood on our TV talk forum!