Doctor Who: Season 5
(2010)
SEASON: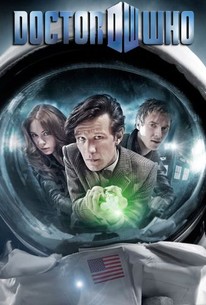 Rate And Review
Doctor Who: Season 5 Photos
Tv Season Info
T he Eleventh Doctor (Matt Smith) and his new companion Amy Pond (Karan Gillan) embark on a series of incredible adventures through time and space in the fifth series of the enduing British sci-fi series. Traveling in the TARDIS, The Doctor, Amy, and others face off against a formidable onslaught of foes including Cybermen, Daleks, Weeping Angels, Smilers, Sea Devils, The Entity, and the dreaded Vashta Nerada. Meanwhile, memorable encounters with such noted historical figures as Vincent van Gogh and Winston Churchill reveal just how different the present might have been without The Doctor and his companions to save the day.
News & Interviews for Doctor Who: Season 5
Audience Reviews for Doctor Who: Season 5
I think everyone was expecting for the worse because of what happened at the end of the previous season, but we were rewarded with a good Doctor, a very good actor and good writing. It just takes a few episodes to settle (despite the great first episode), that why the 4.5 stars.

S5 was a very rocky start to Matt Smith's Doctor, which is my favorite, but it's still enjoyable to watch for his and the companions' performances. The strongest points in the season were his premiere, the weeping angels two-parter, "Amy's Choice", the beautiful "Vincent and the Doctor", and the lovely season finale. James Corden's episode was great fun, too. The show inarguably got exponentially better when Moffat took over, and continued to get even better.

an awesome series of doctor who with a brand new doctor as Matt Smith and an excellent series arc.

Wow, this is a different kind of doctor, matt playing young but old doctor is interesting and Karen (amy) is a great choice of a companion for this new doctor.

These were the good days of Doctor who.

Never been a fan of this series. Overrated if you ask me...(sorry)

Second best season of Doctor Who, So close to being as good as Season 4 but comes up a little short, characters are great, story is great, episodes are great. Everything about this season is consistently great

Beautiful! The story line and complexity are astonishing. Along with phenomenal actors... this is a must-see.

Matt Smith brings a remarkable amount of new energy to his portrayal, and Karen Gillan and Arthur Darvill prove to be more than up to the task of creating believable and likeable companions to complement him and the new format of an overarching conflict.