Friday Night Lights: Season 1
(2006-2007)
SEASON: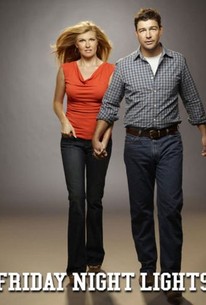 TOMATOMETER
AUDIENCE SCORE
Critic Consensus: Innovative for its time, Friday Night Lights offers a realistic glimpse into small-town life and the social issues that accompany it.
Friday Night Lights: Season 1 Photos
Tv Season Info
Creator Peter Berg's critically acclaimed series adaptation of the book and movie of the same name centers on the coach and players of a high-school football team in Dillon, Texas, a small town in which football is near religion. New Panthers coach Eric Taylor (Kyle Chandler) arrives in Dillon amid soaring expectations and media scrutiny. It is clear that his coaching performance directly affects his welcome in the community, along with the acceptance of his wife, Tami (Connie Britton), and his daughter, Julie (Aimee Teegarden). Though Tami doesn't share her husband's passion for football, she is supportive nonetheless, and soon finds her own niche when she takes a job as the high school's guidance counselor. Julie, on the other hand, refuses to be friends with football players and doesn't like her new home in Dillon. The town's most beloved player is all-star quarterback Jason Street (Scott Porter), who suffers a spinal injury in the pilot episode that leaves him in a wheelchair. His paralysis profoundly affects those close to him, especially his girlfriend, Lyla Garrity (Minka Kelly). The good-natured cheerleader channels her grief by entering a secret and volatile relationship with Street's charming-but-troubled best friend, Tim Riggins (Taylor Kitsch). Shy second-string quarterback Matt Saracen (Zach Gilford) is thrust into the role of starter after spending much of his football career on the bench and under the radar of the fans and even his teammates. Cocky running back Brian "Smash" Williams (Gaius Charles), meanwhile, revels in the spotlight and keeps his focus determinedly set on gaining an athletic scholarship to college. Also looking to the future is the beautiful and jaded Tyra Collette (Adrianne Palicki), who desperately wants to escape the small-town life that has consumed her mother and sister.
Audience Reviews for Friday Night Lights: Season 1
For five seasons, Friday Night Lights was the number one teen drama on television and I have yet to find a single person who didn't love this show. It's impossible to imagine that a show centered around a football team could be so successful, when TV shows centered around sports almost never succeed on television. Looking back, I can't find a single TV drama that was centered around a sports team that lasted longer, so why was Friday Night Lights so successful? The answer is quite simple. While the show was centered around the Dillon Panther football team, football wasn't the end all and be all of the show, it made up a quarter of the series. The other parts focused on the town of Dillon, the Taylor family, and the lives of the players. It's this mix that left something for everything. As a sports fan, I loved the football angle to the show and thought that Coach Taylor was on of the most realistic portrayals of a coach that I have ever seen. For the ladies, there is plenty of romance and teen drama involved with the show, surrounding the players, the high school, and the Taylor's young daughter. As for the adults, there is the family values aspect, as the Taylor's truly care and don't just take care of the students they are entrusted with, but they take an interest in helping the entire town that they are a part of. The story lines run deep and the character development is as good as you will ever find in any television show. In binging five seasons of this show, I felt as though I knew some of these characters as if they were members of my own family. As for the stars of the show, Kyle Chandler and Connie Britton had amazing chemistry, which they used to play off each other and the result is that neither of them have ever been better than this. The Taylor's were career defining roles for both actors and they aren't the only ones. This show also launched the careers of Taylor Kitsch, Jesse Plemmons, and Zach Gilford, all of whom have gone on to some very successful roles following Friday Night Lights. If you're thinking that this show is just some MTV teen drama or a show about football, you couldn't be more wrong. This is one of the best depictions of life in small town Texas, Southern youth culture, and the struggles associated with life in a small town that you will ever find. I highly recommend this show for it's drama, it's exciting action, but most important of all for it's amazingly accurate portrayals and lessons associated with real life in small town America.
Discussion Forum
Discuss Friday Night Lights on our TV talk forum!