Futurama: Season 1
(1999)
SEASON: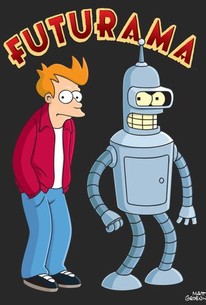 Futurama: Season 1 Photos
Tv Season Info
The first series of this sharply satiric animated comedy cocreated by Matt Groening ("Simpsons") begins with pizza delivery boy Philip J. Fry (voice of Billy West) accidently falling into a cryogenic freezer on New Year's Eve 1999 and waking up exactly 1,000 years later. He, one-eyed Leela (voice of Katey Sagal) and alcoholic robot Bender (voice of John DiMaggio) become the crew of the intergalactic delivery service Planet Express in the 31st century. Their adventures include making a delivery to an amusement park on the moon, rescuing animals on the planet Vergon 6, and escaping from Chapek 9, a planet inhabited by human-hating robots.
Audience Reviews for Futurama: Season 1
½
An enjoyable journey to discover life in New New York in year 3000. Essentially Simpsons in the future with adult themes.
½
From The Simpsons creator Matt Groening comes the animated sci-fi comedy Futurama. Smart and satirical, the show delivers a unique and edgy brand of comedy that's a lot of fun. Season 1 follows a pizza delivery boy named Fry who is accidentally cryogenically frozen on New Year's Eve 2000 and wakes up a thousand years later to a future that he never could have imagined. It's an interesting setup and the show does a good job at world building; creating colorful aliens and strange new technologies for the 31st century. And aside from its great cast of regular characters, some special guest stars stop by; including Leonard Nimoy, Pamela Anderson, and the Beastie Boys. Futurama's first season is wonderfully charming, and brilliantly spoofs the sci-fi genre.
Discussion Forum
Discuss Futurama on our TV talk forum!