Tricia Tanaka is Dead
EPISODE: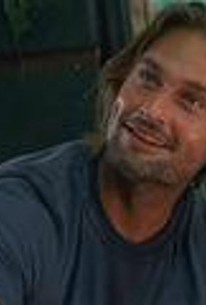 Episode Info
Hurley discovers a minivan on the island, prompting him to flash back to the time he and his father attempted to fix an old Camaro. After visiting Libby's grave to tell her how much he misses her, Hurley notices a visibly upset Charlie moping around nearby and quickly walks over to see what's bothering his old friend. It seems that Desmond's prediction about Charlie's death has got the former rock star down. Hurley is convinced that the whole thing is his fault, but before he can make his point Vincent shows up carrying a skeletal human arm that still grips a pair of car keys. Chasing Vincent into a nearby clearing, Hurley notices a tipped-over minivan in the brush. While none of the other castaways seem particularly interested in his find, Hurley does manage to convince Jin to take a break from his English lessons and give it a look. At the same time Jin and Hurley realize that the man in the minivan was making a beer run, Sawyer and Kate bicker back and forth as they make their way back to the camp. When their attempt to leverage the minivan fails, Hurley finds his thoughts drifting back to the time when television reporter Tricia Tanaka interviewed him for the grand re-opening of Mr. Cluck's Chicken Shack. Immediately after the disastrous interview, a meteor slammed into the Chicken Shack killing Tanaka and her entire crew. Hurley is convinced that the death was his fault, and his claim of being cursed is only further reinforced when he recalls the time his father returned home after abandoning the family when Hurley was just a child; the pair had once planned on rebuilding a Camaro together, but the project stalled when dad skipped town. Sawyer too attempts to lend a little muscle in getting the minivan up and running, but it seems that everyone has lost hope except for Hurley. Later, David admits that the only reason he returned was for the money. Perhaps if Sawyer, Jin, and Charlie could push the van over the crest and Hurley successfully pops the clutch everyone will realize the value of remaining hopeful even in the most trying times. Meanwhile, Kate persuades a reluctant Rousseau to help her rescue Jack from the Others before it's too late.
Tricia Tanaka is Dead Photos
Discussion Forum
Discuss Lost on our TV talk forum!